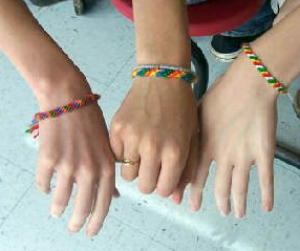 Calhoun Middle School Spanish classes celebrated Cinco De Mayo by having a fiesta and making "pulseras" bracelets.
The pulseras bracelets are known in Guatemala as "Pamiente" bracelets because they are seldom alike. If you see someone wearing one just like yours, you are destined to be best friends.
Calhoun Middle students experienced food such as tacos, empanadas, adobe bars, earthquake cake, Mexican bean dip, and of course chips and salsa.
Cinco De Mayo is a Spanish holiday celebrated in Mexico and the US.
French troops invaded Mexico in 1826. The French had a well- equipped army. The Mexicans did not.
The Mexicans won a victory over the French is 1862 on the fifth day of May. The victory did not bring complete independence to Mexico but proved to the world that Mexicans wanted the freedom to rule themselves and would fight for that freedom.
This victory showed that a few people who were committed to a cause could triumph over larger, better- equipped army that was not really interested.
Courtesy of Calhoun Middle School