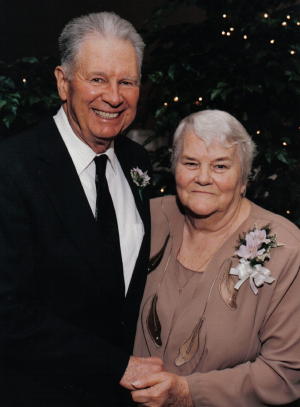 Submitted by Angie Hersman
Francis E. and Donna W. Cain of Big Bend have been selected by the Calhoun County Wood Festival Committee to represent the county's 150th Birthday and the XLIV Wood Festival as its 2006 Parade Marshals.
The Grand Parade commences at 1 p.m. today.
Francis and Donna were married April 15, 1949 at Claysville United Brethren Church in New Creek, West Virginia.
Donna was born July 2, 1927 to the late John and Ethel Warrenfeltz of New Creek, WV. She is a graduate of Keyser High School and is a full-time homemaker.
She enjoys quilting, traveling and family time. She has been involved in many community activities such as 4-H Leader, Homemakers Club, Election Counter and Blood Mobile volunteer. She has also been a Folk Festival Belle.
Francis was born January 5, 1925, son of the late Everett and Eva Cain of Big Bend, WV. He is a graduate of Calhoun County High School with the class of 1941.
Francis served in the Army from 1943-1946. He received his Bachelor of Science in Agriculture degree from WVU in 1950 and Master in Agronomy in 1951. He then worked for the Soil Conservation Commission from 1951-1955. He started Cain Oil and Gas Company in 1955.
Francis and Donna live on a farm where they raise beef cattle. They are members of the Brooksville Baptist Church. He serves as Deacon and Sunday School Teacher, while Donna enjoyed teaching, singing in the choir and being a youth leader.
The Cain's have five children, Juanita Miller of Nokesville, VA; David Cain of East Big Bend; Susan Hall of Millstone; the late Dean Cain of Grantsville; and Laura Stump of Troutville, VA. They also have 12 grandchildren and 10 great grand children.