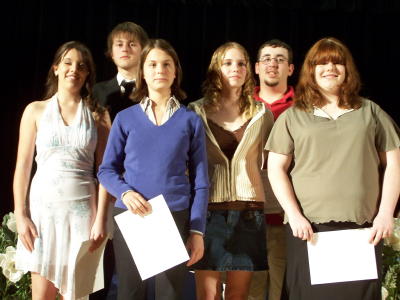 NEW MU ALPHA THETA INDUCTEES
(L-R) Amanda May, Jeremiah Postalwait, Jade Nichols,
Amanda Oldham, David Rogers and Tara Thomas
Last night, Calhoun High School inducted six new members to Mu Alpha Theta, a National Mathematics Honor Society encompassing over 65,000 students in more than 1,400 schools.
During a special ceremony, current senior and junior members, brought the new students into the society.
Mu Alpha Theta is dedicated to inspiring keen interest in mathematics, developing strong scholarship in the subject, and promoting the enjoyment of mathematics in high school and two-year college students.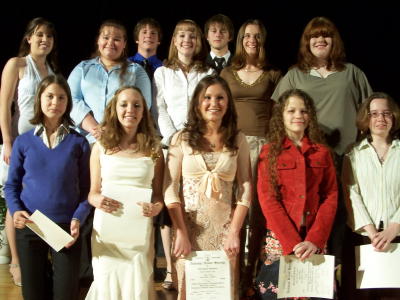 NEW HONOR SOCIETY MEMBERS
1st Row (L to R) Jade Nichols, Jamie Kennedy, Amie Carilli,
Kayla Miller, Hayli McKinstrey; 2nd Row (L to R) Amanda Alcarez-May,
Christie Kight, Briana Blankenship, Melissa Jarvis and Tara Thomas;
3rd Row (L to R) Matt Houchin and Jeremiah Postalwait
Twelve CHS students were inducted into the Honor Society, representing scholarship, service, leadership and character.