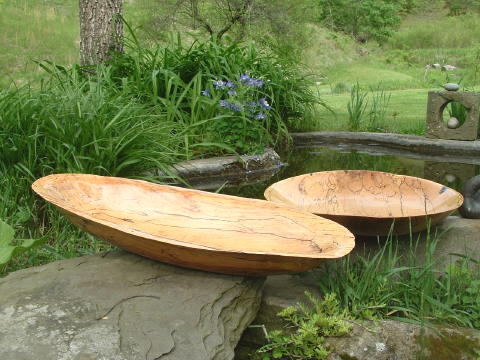 Appalachian Classic Mountain Bike Race Champion Trophy Bowls
Submitted by Diann Clothier
Where else, but the Appalachian Classic MTB Race at the Calhoun County Park near Grantsville, WV, can a Pro-Expert XC racer win a carved wood bowl worth $800? Actually - two Pro-Expert racers: The fastest male and female Pro-Experts will receive a spaulted maple wood bowl, engraved "10th Annual Appalachian Classic Mountain Bike Race - Champion Bowl - June 18th, 2006.
The bowls are created by local artisan Rob Clothier, and would retail for $800 each. One bowl is 20" round, and 3 1/2 " tall, and the other is 27" long, 11" wide, and 4" tall. Perfect for fruit - or any other kind of food - as they are finished with an FDA approved bowl finish.
The Appalachian Classic is WVMBA's 7th Point Series Race for 2006 - Experts will race 21.6 miles, Sports 14.4 miles, and beginners 7.2, with the race beginning at noon.
Free camping is available at the park, and the 1st 150 racers to register will receive a free race T-shirt. All racers will, in WV tradition, partake of a free post-race meal, and lots of prizes!
This year, the Classic will introduce Family Fun Rides on Saturday, June 17th. The rides will start at 11 a.m.. There will be a short road ride (10-15 miles) and a long road ride (30+ miles), and beginner mountain bike guided rides around the park, where some of WVMBA's members will teach beginners how to handle rocks, roots, and off-camber trails.
Moms and Dads can road ride, and leave the kids to explore mountain biking!
Also on Saturday will be the free Kids Races at 3 p.m. These races are non-gender age category races, with the course suited to the age groups of 6 and under, 7 and 8, 9 and 10, and 11 and 12. After the Kids Races will be the Classic's infamous Pond Jump - get on a bike wrapped in flotation foam and no brakes, pedal down a hill and off a ramp, and ... whatever!
Some jumpers go for acrobatics, others for pure splash, but it sure is fun to watch! A self appointed panel of judges determine the winner based upon whatever they feel like.
The feature Cross Country race will commence at high noon with a blackpowder blast and stains of "Theme for the Common Man" wafting through the air.
Experts leave first in the 1 minute staggered start, followed by Sports, and then Beginners and Olympic Classes (law enforcement, physically challenged, grand masters 55+, etc.) - up the hill, around the corner, and then down the hill and on to the trails. Spectators enjoy being able to reach any part of the course within a 10 minute walk from the center of the park.
For more information and directions, visit www.appalachianclassic.com
or email appalachianclassic@yahoo.com
This year the Classic is sponsored by the Minnie Hamilton Health Care Center, Calhoun Banks, Robbie Clothier Wood Bowls, CytoMax, Charleston Bicycle Center, Price Point, Ace Adventure Center, Lyte-N-Go, The Shirt Factory of Parkersburg, Maxxis, Ahearne Cycles, Morningstar Tools, Kryptonite Locks, WV Army National Guard, Campmor Bike Shop, WV Power Baseball, Morris Oil & Gas, Cain Oil & Gas, and Loren Howley, Attorney.