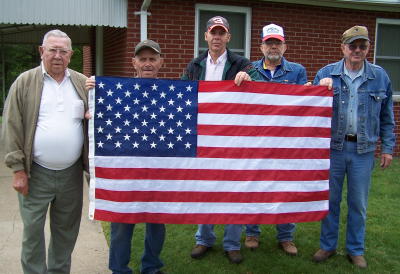 VFW members holding flag at Nobe, prior to flag raising (L to R) Gene Whytsell, Gale Tanner, Bob Yoak, Roger Yoak and Stan Norman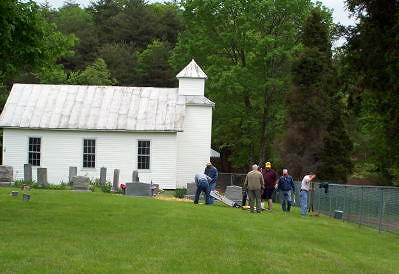 Members prepare flag pole at Mt. Zion
Cemetery near Wirt-Ritchie-Calhoun line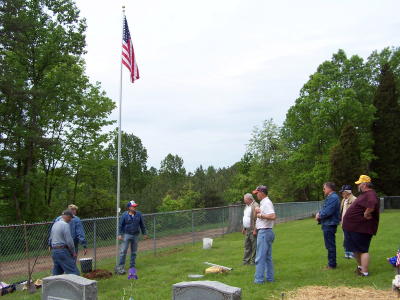 Flag flying over graves at Mt. Zion Cemetery,
where a Civil War veteran is buried
With Memorial Day approaching, the Grantsville VFW Post 5959 has once again started erecting flag poles in local cemeteries.
This past weekend they erected poles and flags at the cemetery beside Chapel Baptist Church at Nobe and the cemetery beside the old Mt. Zion Methodist Protestant Church near the Ritchie-Wirt-Calhoun line, not far from Brohard.
The Mt. Zion Church, long closed, was built about 1893, but has been given some restoration and is open to the public.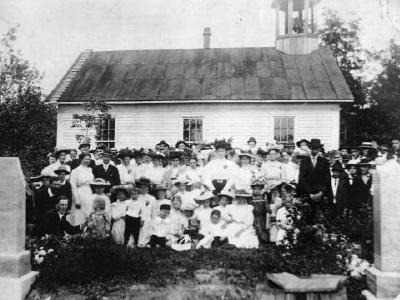 A memorial day congregation at Mt. Zion Church about 1910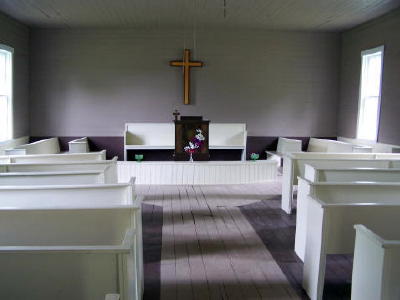 Inside view of church in 2006, restored and open for visiting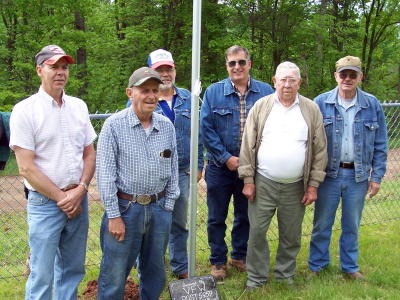 Some who helped at Mt. Zion (left to right) Bob Yoak, Gale Tanner,
Roger Yoak, Steve Sams (whose parents, Clifton and Eva Frederick
Sams are buried nearby), Gene Whytsell and Stan Norman