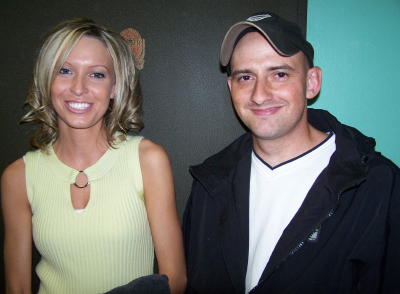 Jennifer Cottrell and Kevin Helmick
said "It was quite an experience, campaigning,"
they expressed appreciation to county voters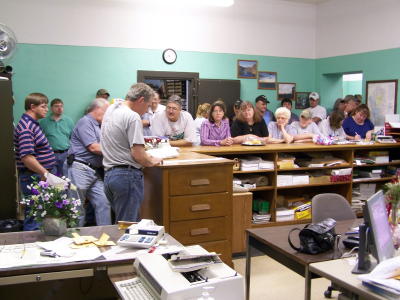 County Clerk Richard Kirby reads precinct results to crowd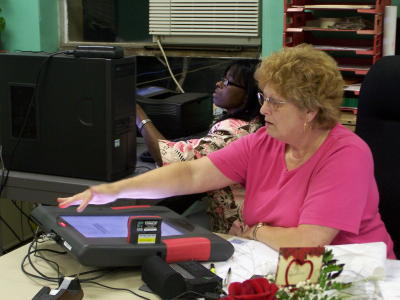 Workers count computerized touch-screen ballots,
put into use for the first time this year
Long-time Calhoun commissioner Larry McCallister was defeated in yesterday's primary election by political newcomer Kevin Helmick.
Helmick received 551 votes (60%) to McCallister's 368 (40%).
McCallister congratulated Helmick with his victory, saying "You were a very good campaigner."
A precinct-by-precinct account was not available at midnight.
Elected to the Calhoun County Board of Education were the three top vote getters, Steve Whited, Mike Wilson and Lee Evans.
Board of Education:
Steve Whited 549
Mike Wilson 540
Lee Evans 481
Sandra McCumbers 464
Juanita Berdine 401
Carlene Frederick 342
Donna Richards 256
William F. "Bill" Stemple - House of Delegates-District 33 (unopposed) 749.
Larry J. Edgell - State Senate-District 2 (unopposed) 493.
In the only contested race for Democratic Executive Committee, Loretta Stevens beat Linda Simmons, 153 to 39.
In the only contested race for Republican Executive Committee, Charles Whipkey beat Gaylen Duskey, 36 to 21.
Democrat Robert C. Byrd garnered 703 votes to Billy Hendricks, Jr. 177.
Republican John Raese was the highest vote getter for US Senator with 177 votes.
The percentage of turn-out was not available last night.
In the US House race (Democrats):
Mark Hunt 439<
Mike Callaghan 168
Ritchie Robb 165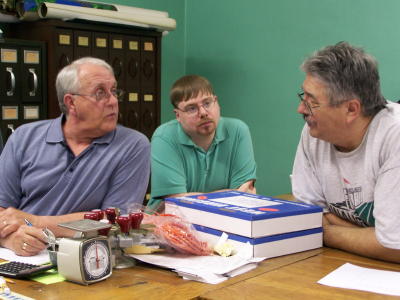 Talking politics and tabulating results
(L-R) commissioner Larry McCallister, Prosecutor Matt Minney
and Grantsville Town Councilman Gaylen Duskey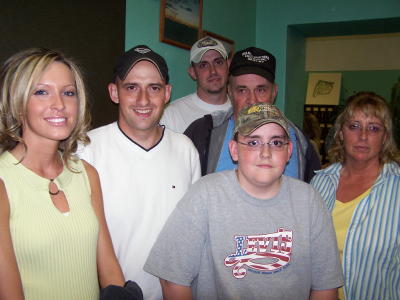 Almost all the Helmick family from Nicut was present to hear the tally