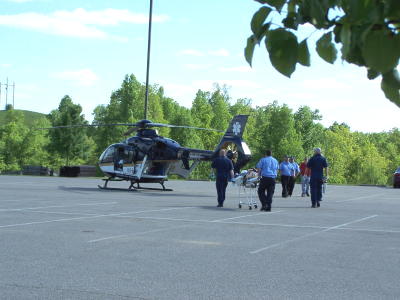 Calhoun EMS loads patient on HealthNet
chopper at Calhoun Middle-High School
The director of Calhoun's DHHR office, Jim Morford was injured Tuesday afternoon when his four-wheeler collided with a large oil company truck in a sharp turn on Pine Creek Road near Hur.
Morford was life-flighted to Charleston Area Medical Center by HealthNet, shortly after the 3:30 p.m. accident.
He was reportedly suffering from chest injuries.
As of midnight CAMC said Morford is still under evaluation.
Morford's wife, Bev, a teacher at Calhoun High School, received minor cuts.
The accident happened about three miles from Mt. Zion (Rt.16) on the upper Pine Creek Road, a short distance from Hur.
The Morford's had been exploring old cemeteries on the Husk Ridge, and were returning to Grantsville.
Calhoun EMS transported Morford to the parking lot at Calhoun Middle-High School, connecting with HealthNet.
The Grantsville VFD and the Arnoldsburg VFD also assisted.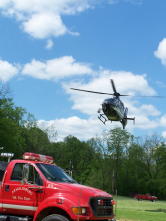 A 71-year-old Sand Ridge man was taken by HealthNet to CAMC at 1:30 p.m. after he reportedly suffered a stroke and fell. Calhoun EMS responded, with the Arnoldsburg VFD assisting.
A 10-year-old Walker boy was injured when he was thrown from a horse at 7 p.m. Calhoun EMS and the Upper West Fork VFD responded.
Calhoun EMS and Minnie Hamilton Health Care Center's ambulance responded to Hill Road in Big Bend at 11:20 p.m. where a 65-year-old woman was the subject of "a working code."