By Drew Moody
Special to Hur Herald
A multi-jurisdictional, multi-state drug task force, including several members of the West Virginia State Police busted a sophisticated indoor growing operation Sunday on Dusk Camp in rural Gilmer County. The 274 seized plants, locked in an evidence room, scented the entire state police barracks Monday afternoon. The plants are scheduled to be removed Tuesday.
Taken into custody were Thomas MacWilliams, age 42, of Geneva, Ohio and Darlene Wollschleger, age 40, of Lawton, Oklahoma.
MacWilliams, using the alias of Greg Gromofski, rented two trailers on Dusk Camp about six months ago. He lived in one and used the other as a grow house. "He knew what he was doing," said Cpl. J.E. Skidmore of the West Virginia State Police.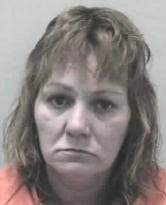 Police believe Wollschleger, (left) thought to be a former nurse in the Fort Sill, OK, area, only arrived in Gilmer County during the past two weeks.
The woman may have been the suspect's girlfriend, or a mule, (transporter of drugs) for the illegal operation.
Expensive greenhouse quality grow lights were used in the operation. Skidmore said the walls were covered with aluminum foil to reflect and magnify the light.
MacWilliams, with a long history of criminal activity, has been a fugitive since the fall of 2004. He was awaiting sentencing after being busted for possession of 900 pounds of marijuana in Ohio, and subsequently skipped bail. Prior to that incident he'd served jail time for manslaughter, according to Cpl. Skidmore.
Ohio T.A.G. Task Force officers received a tip that MacWilliams was living in the Dusk Camp area. Police, including six officers from Ohio, located the suspect and kept him under surveillance for approximately a week prior to the arrest.
Charges are pending against MacWilliams, who could be charged under federal or state code violations. Thus far Wollschleger has been charged for cultivation of marijuana, according to Cpl. Skidmore. Both are being held in the central regional jail. MacWilliams picture is not available on the central regional jail site.
Anyone with information regarding illegal drug or other criminal activity can call the West Virginia State Police at 462-7101. All information, including the identity of the callers, is kept confidential, police said.