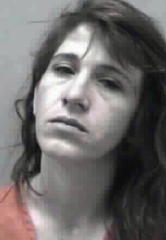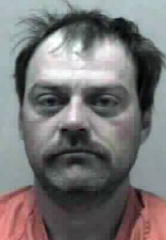 By Drew Moody
Special to the Hur Herald
An approximately 30-mile high speed police chase beginning north of Burnsville on I-79 ended on Sun Rise Hill in the Tanner area early Saturday evening when the driver lost control of his car and crashed into a hillside.
Speeds of over 90 mph were reached on West Virginia Highway 5 (Route 5).
TFC M.S. Clark of the WV State Police Interstate Patrol clocked the vehicle at 96 mph near the 82 mile marker and attempted to pull over the driver. Clark radioed for assistance when the suspect refused to stop.
The pursuit included traveling down the entire length of Main Street in downtown Glenville.
The driver, Richard Earl Mitchell, Jr., age 36, of Huntington, TN, lost control of his vehicle at the intersections of Main and Powell Streets. He plowed through two yards before narrowly missing a parking meter and utility pole re-entering the street.
Sara Aviles, eight year old daughter of Felix and Nancy Aviles of 305 E. Main Street, was so startled - standing just a few feet away on her porch - fell on the front steps of her home. Her bike, parked nearby, was almost run over.
Many neighborhood children often come to the Aviles' and play in the front yard area. The Aviles' have six children at home ranging in age from seven to 18 years old.
"It just so happened the kids weren't out there playing or they'd be gone," commented neighbor Dennis Stanton, a senior at Glenville State College.
Mitchell's car traveled approximately 18-feet off the roadway while careening out of control in downtown Glenville leaving a path about 105-feet long through Joe and Carol Putnam's yard and the Aviles'.
"It was scary," Nancy Aviles said Monday. Sara ran into the home and told her mother she almost got hit by a car.
Betty Hewitt, who resides across the street from the incident, was trimming flowers and saw the entire event. "It's always a busy street. We were just lucky," she said.
Gilmer County Sheriff's Deputy Casey Jones joined in the chase and was almost hit head-on by Mitchell.
Jones avoided the collision without any damage to his patrol car. Gilmer County Sheriff Mickey Metz and Sr.Trooper R.P. Smith also joined the pursuit.
Metz indicated he believed officers thought drugs were involved as Mitchell and his passenger were apparently throwing items out the windows of the car.
Clark and Lt. Sam Cutlip of the Glenville Police Department searched a ditch line near the wreck and discovered a smoking device wrapped in paper towels.
A small amount of powdered substance, field tested and determined to be methamphetamines was also confiscated, according to information released my the Gilmer County Sheriff's Department.
Richard Earl Mitchell and his passenger Emily Ann Coffman, age 31, of Dresden, TN were both taken into custody and are being held in the Central Regional Jail.
Charges include: reckless driving, fleeing from a police officer, assault on a police officer, destruction of property, passing in a no passing zone and failure to stop. Bond has been set at $15,000 and a hearing date has yet to be determined.
As of Monday afternoon, no drug charges had been filed against the pair.