By Alvin Engelke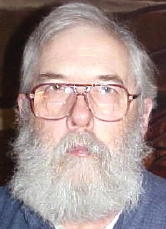 By Alvin Engelke
There will be a cleanup and work day Saturday, May 13 at the Creston Community Building. Willing workers should show up prepared to clean, scrub and generally make things shine.
Rev. Paul Williams filled his regular appointment at the Burning Springs M. E. church. His sermon reflected current world news as the crazy who presently runs Iran (formerly Persia) has threatened to use their nuclear bombs to eradicate Israel, as well as punish the United Kingdom and the United States. At the same time there are those who would claim that "All the terrorists are misunderstood and had bad childhoods, and we should appease them, and . . ."
Mary Reno was calling on Mr. & Mrs. Carl Ferrell & daughter. They all went to Giovanni's in Elizabeth to dine and first thing happened was Freddie Bush came in and had a along talk with Carl. Then Donna noticed that an old acquaintance was scrubbing the floor and was then washing dishes. She thought that "seeing him work was news worthy, to say the least".
Area residents have been feasting on morel mushrooms, poke greens and deep fried locust blossoms.
Vera White was visiting friends and relatives in Creston over the weekend. She reported that she was on the mend but would have to wait a while before going back out on the boat where she is a cook. She reported her neighbor said, "I read about you in The Chronicle." She said, "How did you get The Chronicle?" And to which he answered, "I'm from Calhoun!"
P. E. Graham put a new floor in Euell & Charles Russell's kitchen and dining room.
The Old Lizard, Mark Shimer, has been on the sick list. He has lost off 40 lb in the last month. He and J. A. "Stymie" Plummer were among those calling on Dorine Parsons. Mark is scheduled for a medical consultation at Morgantown.
Anna Engelke motored to Washington to the show Rent. She noted that it was apple blossom time and she and the FunChester group were going to feast on fried locust blossoms.
Calhoun County Commission candidate Kevin Helmick was campaigning in the Creston area.
It was learned that Rader Logging is set to timber Jerry Snyder's place on the Creston hill. The folks (Hard Times Timber) logging on Ann's Run have been hauling out some fine full length logs. One of the truckers is from Bruceton Mills.
The gendarmes have been busy locally with a significant amount of local impact. First, Super Trooper pulled Arley Parker, the contract mail carrier and House of Delegates candidate, over for driving on suspended. That resulted in The Missus coming with Arley for a couple of days and on one day the mail was at Creston at 7:30 A. M., just like old times. On Saturday, "Bill" was driving the truck and Arley was a passenger.
The law raided a place in Brooksville and picked up a gentleman wanted on felony charges in seven (7) states. He had with him a damsel who had been improperly removed from a juvenile detention or reform school facility in Columbus, Ohio. He should be out of circulation for at least a few days.
Then, another fellow was picked up driving suspended and perhaps also DUI. He made several calls from Doddridge County wanting folks to spring him for, as he said, he had taken these ladies to the hospital after being injured in a four wheeler disagreement with a hit and run car.
There was a big party in a remote section of Ritchie County not too far from Chipmunk Crossing on the Munday road. Bucky Bell became irritated with Bill & Opal Vandal's grandson and used a 357 on him. One of the Calhoun troopers didn't know the Ferree hill very well, missed the turnoff [at the old Pinckney P. McCray place] and crashed his chariot doing extensive damage to a tree, among other things. The owner of the land indicated that he was not invited to the party which was not the first to occur at that locality.
Jason Balis was in Creston to pick up a lease he had left earlier.
The price of local Pennsylvania grade (the world's best) crude was $66/bbl over the weekend. East Resources (which now owns many South Penn or Pennzoil properties) was paid $15.53/MCF (thousand cubic feet) for January gas at Brohard while Roane County gas fetched $20.03/MCF. Obviously the quote about some children getting to eat "better vegetables" still holds true.
Eva G. Pennington is on the mend after her surgery. She now walks three days/week and has more stamina. The Burning Springs churchwomen's group is to meet at her home Thursday evening, May 11.
Butch Deere's truck was hauling oil from Creston one day last week.
Casper Shuman was attending to business in Creston over the weekend.
Pee Wee, Josemite Sam (Dawson), Dalton and C. Romeo Griffin, Jr. busied themselves Sunday mowing a graveyard way off the beaten path back in the boonies at the top of Owl Hill. With Sam serving as pilot in command of their Nascar (Lowe's, by MTD) riding mower with malfunctioning brakes, the illustrious quartet then headed for their favorite hunting shanty in an effort to keep the grass under control. Sam plotted a course down a rather steep incline without first gearing down ... Eyewitnesses report that he shut the engine down and bailed off at approximately 30 MPH and then rolled for another 30 - 40 feet much like a wildcat going on a ride in a dryer. The mower miraculously came to rest on a small bush unharmed. All were amused when it was determined that Sam was OK too, except for a few scrapes, sore spots, etc.