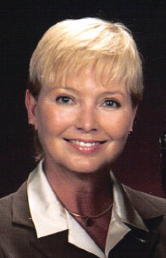 By Lawrence J. Smith

Atlanta, Ga. - Cinco de Mayo was a peachy day for a West Virginia native and former community college official at West Virginia State College named president of a Georgia higher education institution.

On Friday, the Board of Reagents of the University System of Georgia named Torri A. Lilly (pictured left) as president of South Georgia College in Douglas, Ga. Lilly was chosen from a pool of three finalists who were given final interviews late last month.

Reagent Mansfield Jennings, chairman of the presidential search committee, said Lilly, provost and vice president of the Citrus County Campus of Central Florida Community College, in Lecanto, Fla., "was an excellent choice for South Georgia College." Lilly's extensive background in community college administration gave her the edge for the job, Jennings said.

"She has 15 years of senior administrative experience in community colleges that will serve the institution extremely well," Jennings said. "We also were impressed with her demonstrated ability to build partnerships and to engage an institution in the community it serves."

"We are excited about her leadership and the impact she will have on the college," added University System Chancellor Erroll B. Davis, Jr.

30 YEAR GOAL ACHIEVED

A native of Beckley, Lilly, 51, has served as CCCF's provost and vice-president since 2004. Lilly, who was in the midst of preparing for CCCF's graduation Friday, said via e-mail she's looking forward to marking this new milestone in her career.

"Having worked for nearly 30 years toward the goal of becoming a community college president, I am pleased and honored to be asked to serve South Georgia College as president," Lilly said.

"Coming on board to SGC during its 100th anniversary year is very motivating, and I can hardly wait to get with the faculty and staff and start to work."

According to its Website, SGC is a two-year college which offers students "23 majors which transfer to other institutions, and associate degrees and certificate programs in 10 majors designed to prepare them for careers in nursing, business and information systems." Founded in 1906, SGC is a 190-acre campus with an enrollment of 1,300 students.

Lilly is expected to become president sometime in mid- to late-June.

JOURNEY STARTS IN WV

Lilly's 30 year journey to become a community college president starts in the Mountain State where she not only received, but also provided an education. Lilly holds undergraduate degrees from the College of West Virginia (now Mountain State University), in Beckley, and Concord College in Athens.

Later, she earned both a Master of Arts in education administration and language and linguistics from Marshall University. Shortly thereafter, Lilly obtained a doctorate in higher education administration and English from West Virginia University.

Lilly started her career in higher education teaching doctoral-level courses at WVU as an associate member of the graduate faculty. In the late 1980's, Lilly became a faculty member at both Beckley and West Virginia State colleges teaching English.

In 1991, Lilly was named assistant provost and dean of State's Community and Technical College, a post she held for nine years. During her tenure, Lilly was in charge of all associate degree programs, workforce development, continuing education, supervised more than 70 full- and part-time faculty and oversaw professional-development seminars and student advising.

Prior to accepting the post at CCCF, Lilly served as dean of workforce development on the Kent Campus of Florida Community College (FCC), in Jacksonville, Fla. - the nation's 10th largest community college. There, she supervised more than 100 full- and part-time faculty and staff and developed a legal studies institute, a sales and customer service institute and a China business education center.

DENIED POSITION AS WVSC&TC PROVOST

In 2000, Lilly had an opportunity to achieve the goal of becoming a college president when the provost's position at WVSC became available. However, differences she had with WVSC President Hazo W. Carter over the controversial S.B. 653 - legislation making community colleges independent of their host four-year institutions - resulted in Lilly being passed over for the job.

The post become available after former Provost George Bilicic was ousted on March 23, 2000. Max Harbert, head of the WVSCTC's continuing education and extension service, told the Charleston Gazette Bilicic's firing was a result of his violating a "gag order" Carter placed on college officials regarding S.B. 653.

Carter opposed the bill, and Harbet, Bilicic and Lilly supported it.

With over 22 years of educational experience - nearly half coming as assistant provost - Lilly submitted her name for consideration as interim provost. Despite the backing of the community and technical college staff Lilly be named not only interim, but also permanent provost, Carter appointed his executive assistant Robert Parker to the post.

In July, both Lilly and Harbert resigned their positions in protest over the treatment they and Bilicic received.

SEEKING PRESIDENCY AT TENN. COLLEGE

In addition to seeking the presidency at SGC, Lilly was a candidate for Motlow State Community and Technical College in Murfreesboro, Tenn. Though successful in being the final four candidates for president, Lilly withdrew her name to focus her attention on SGC.

Among Lilly's early competitors for the Motlow presidency was Col. Henry Zimon, former president of Albright College in Redding, Pa. Zimon was among the initial pool of 30 candidates for the job.

Allegations that he falsified many of his professional and academic credentials led to much turmoil during his tenure as president at Albright. He resigned as president in 2003 citing a "family emergency."

Those allegations again surfaced when Zimon was a candidate for president of Glenville State College. As one of final three candidates selected, Zimon told those gathered at his presentation to the community on February 17 that he's "never lied. Even to mom and dad."

Zimon along with former Glenville State Board of Governor member Willis Perry were passed over in favor of Peter Barr, provost and senior vice-president of Coastal Carolina University in Conway, S.C. Zimon was less successful in his bid for the presidency of Motlow.

He was eliminated as a candidate when the search committee narrowed its field of candidates to 15 in mid-February.