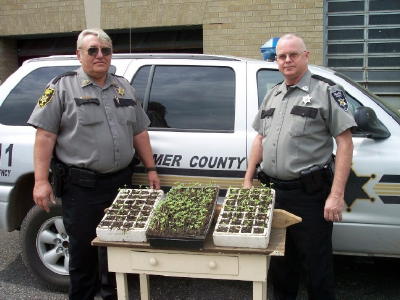 Chief Deputy Jimmy Moss, left, and Sgt. Larry Gerwig are pictured
with a portion of marijuana plants confiscated in the Rosedale area
this week - Photo courtesy of the Gilmer County Sheriff's Dept.
Acting on a tip, the Gilmer County Sheriff's Department seized 413 marijuana plants in the Rosedale area of Gilmer County earlier in the week.
Sgt. Larry Gerwig and Chief Deputy Jimmy Moss are heading the ongoing investigation. No arrests were made as of Friday, May 5.
According to the U.S. Government reporting criteria these plants are considered by the Drug Enforcement Administration (DEA) to be worth in excess of $1 million.
The plants were meticulously cultivated in 'starter pots' similar to what gardeners use. The younger plants were protected from frost with homemade miniature greenhouses.
"We expect all the plants would have been 'jungle planted' in wooded sites within two weeks," Sgt. Gerwig said.
Evidence collected at the scene indicated the plants were carried to the site, as the plants were discovered in a location inaccessible to vehicles.
Sheriff Micky Metz expects with the discovery of so many plants Gilmer County will be allocated more "fly time" by the West Virginia State Police's aerial drug interdiction efforts.