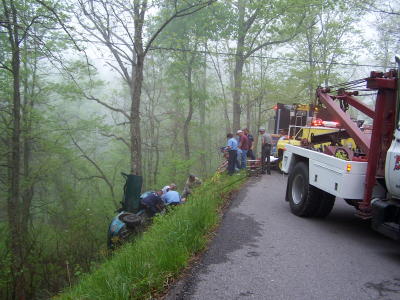 Emergency personnel extract woman from precarious hillside crash
A newspaper carrier for the Charleston Gazette was injured shortly after 6 a.m. today when her car went over a steep embankment, impacting a tree on foggy Rowels Run near Hur.
A Big Otter woman, Bonnie Atkins, 21, was taken to Minnie Hamilton Health Care Center by Calhoun EMS, for evaluation and treatment.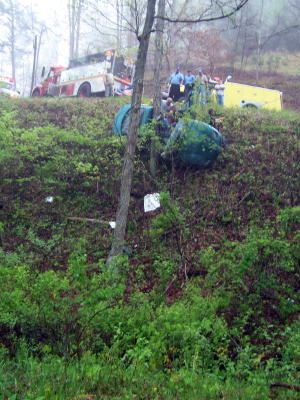 Driver was in critical situation when top of car was knocked off
The car, described as a total loss, was caught by a tree, keeping it from tumbling over the steep hill. The top of the vehicle was torn off, leaving Atkins precariously dangling, although still in the drivers seat.
The Grantsville Volunteer Fire Department tied off the vehicle and used the jaws of life to extract the woman.
Sheriff Carl Ballengee is investigating.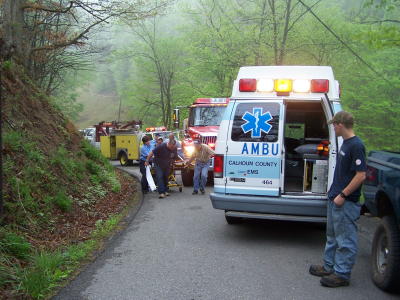 Big Otter woman was taken to Minnie Hamilton Health Care Center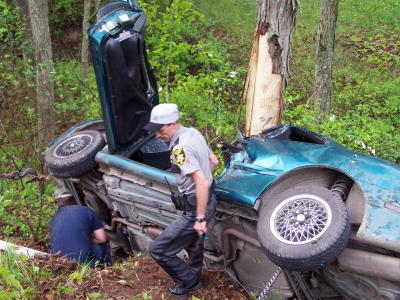 Sheriff Carl Ballengee checks-out wrecked auto
The Grantsville VFD responded to Town Hill near Grantsville about 4 a.m. today to check on a car that wrecked and rolled-over. There were no occupants in the vehicle.