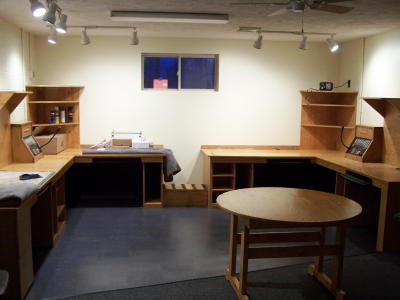 911 Control Room being prepared for move
of radio, computer and electronic equipment
"Its been volunteerism at its best," said 911 Director Dave Johnson, about the progress on the new center near Calhoun Middle-High School. "I would like to thank those who have worked for their dedicated efforts, but I'm sure I would forget someone if I started naming them," Johnson said.
Nearly all the interior work has been done by volunteers, walls, floors, ceilings, insulation, plus the electrical and plumbing work.
The cabinetry which will house most of the electronics is part of the volunteer project.
Johnson said he hopes to see the center moved by July 1, after the erection of the new communications tower.
The center, which has a special three-door security entrance, electronically operated, has security cameras covering the outside of the building, and will also provide security for Calhoun Schools central office and bus garage.