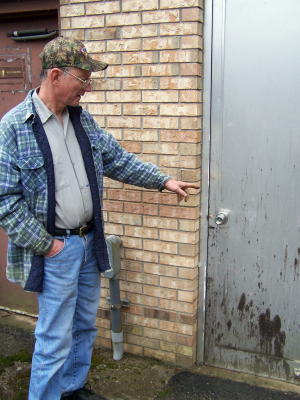 John David Stump, owner of Barker's Mart, points to side
door where person or persons attempted entry last night
An attempt at breaking and entering a Grantsville convenience store was averted after an alarm system was activated and Calhoun's 911 Center was automatically notified.
The perpetrator attempted to enter a side door of Barker's Mart about 11:30 p.m. last night, according to owner John David Stump.
Stump said he was notified at home and came to his business place, where he discovered the open door.
The building, inside and out, is monitored with TV cameras.
Information regarding the incident, call Stump at 354-7990 or local authorities.