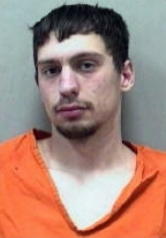 One of two brothers that robbed a Burnsville bank escaped from the Ohio County Correctional Facility near Wheeling over the weekend.

Matthew Gilbert Putnam was serving a sentence at the northern panhandle facility when he escaped Sunday night.

Putnam and his brother Timothy Putnam, residents of Gilmer County, were sentenced in November, 2005 to ten to twenty-five years in the State Penitentiary after the pair pled guilty to the armed robbery of the Burnsville Branch of the Bank of Gassaway.

The brothers fled on a four-wheeler, traveling back toward Gilmer County after the hold-up.

During the sentencing, the brothers requested probation or home confinement in lieu of a jail sentence.

Judge Facemire, after reviewing the brothers criminal history, denied the request.

Law enforcement agencies have been put on the alert to watch for Putnam.