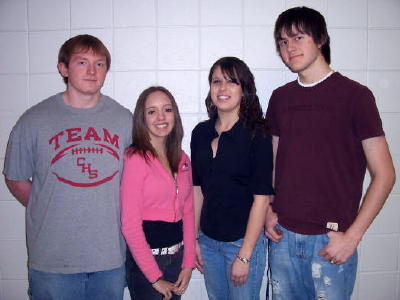 HONOR'S ACADEMY WINNERS (L-R) Jacob Wagoner,
Jamie Kennedy, Amanda Alcaraz-May and Jeremiah Postalwait
Jacob Wagoner, Jamie Kennedy, Alicia Alcaraz-May and Jeremiah Postalwait have been selected from the junior class at Calhoun High School to attend the Governor's Honors Academy held on the Fairmont State University campus in July.
One hundred sixty five top-achieving students from West Virginia schools are selected to attend the academy each year.
Students have to meet a number of qualifying criteria to be selected, including being in the top 10% of their class.
They must have scored at Distinguished Level on two of the three sub-tests of the WESTEST taken during the sophomore year (Math, Science, Language Arts) or have earned a score at or above the 90th percentile on the ACT, PLAN, PSAT, Scholastic Aptitude Test (SAT) or another standardized test.
The Governor's Honors Academy is directed toward challenging students to grow intellectually and creatively in a culturally diverse atmosphere.
You may visit the GHA website at www.wvgovschools.org
Courtesy of Calhoun High School