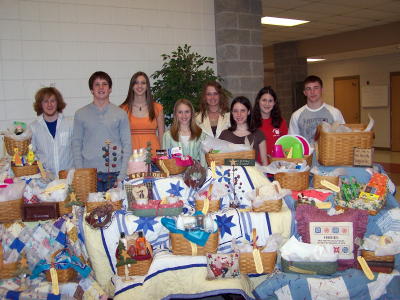 L-R - Mike Sullivan, Matt Houchin, Courtney McKown,
Maria Kisner, Katie Walker, Anna Sampson, Elizabeth
Duskey, and Jeff Goodrich. Not pictured Ashley Conley
Submitted by WVU Extension Service-Calhoun Office
The Calhoun County 4-H Teen Leaders held their annual basket bingo on Saturday, April 1st, in the Commons Area of Calhoun Middle High School. The bingo included 25 games, an "early bird drawing" for a special basket, door prizes, and four raffles. The Grantsville Lions Club called the bingo.
The Teen Leaders would like to say a special thank you to Tammy Nichols for setting up our basket display; Kathy Conley for her basket assistance; Jeff Houchin, Leslie Bailey, and Chris McKown for their work before and after the bingo; Nancy Bremar, Sandy McCumbers, Kenny Sampson, and Phil Kisner for working the concession stand; and to the following businesses and individuals that sponsored our baskets:
Angle Right Land Surveying, Billie & Wanda Houchin, Calhoun Auto Care LLC, Chris McKown, Crystal Conley's Beauty Shop, Debbie Arnold, Longaberger Consultant; Diana Shook, Diane Sampson, Floor & More, Garrett's Used Cars, Hardman's, Houchin Construction, Houchin's Fabric Shop, Houchin's Rentals, Jason Nettles, Assessor, Jeff Himes, J & B Drug Store, Kathy Conley, Longaberger Consultant; Kenny Sampson, Kevin Cunningham, Kolton Garrett, Lisa Goodrich, Lori Wilson, Lori's Country Styling Station; Master's Bouquet, Nancy Bremar, Pam Godfrey, Rick Postalwait, Magistrate; Robert Carpenter, Roberta Hartshorn, Longaberger Consultant; Sherlene Conley, Smith's Auto Parts, Speedy Mart, Sycamore Creek Farm, Teresa Robinson, Magistrate; Tim Moore, State Farm Insurance; Tony Morgan, Attorney; Walker's Well Service, Wood Festival Committee, and The Y Restaurant. The teen leaders would also like to thank everyone that attended the bingo.
The 4-H Teen Leaders club allows older 4-Her's the opportunity to develop practical leadership skills. Locally, the 4-H Teen Leaders assist with county activities such as the county wide 4-H Halloween Party and 4-H Up All Night. Teen Leaders also assist in planning county 4-H camp and often serve as instructors for classes and crafts taught at camp.