By Bob Weaver

Ryan "Goob" Fitzwater came home to the Village of Hur Wednesday evening, several days earlier than planned. It must be overwhelming for the Fitzwater family to recall the past ten days since the fifteen-year-old was critically injured in a tractor accident. It was a touch-and-go situation with this wonderful ending. In many ways with life-changing events, it is a new beginning.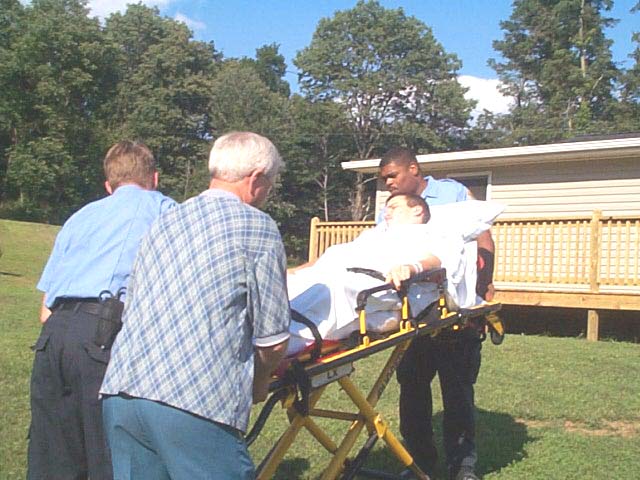 Grandpa Fitzwater helps Goob to the house
"Goob is a fighter and he will make a comeback," said grandfather Shirley Fitzwater, waiting for the ambulance to arrive. Calhoun High Football coach Buck Stewart said "That kid has got what it takes."
The doctor said he might as well go home than be in a hospital bed and get some of his momma's good cooking.
Dad Rick Fitzwater said the hundreds of cards, telephone calls and visits to the hospital gave great support to the family. The Hur Herald readers, not just locally, but around America sent e-mails and called asking "How is that Fitzwater boy?" Thousands undoubtedly joined in the prayer chain asking for God's help. Shirley Fitzwater said they called the hospital and to their homes, from across the land.
This tragic and difficult experience speaks loudly to what life in a rural community is all about. When the chips go down, friends and neighbors rally to the cause. Goob Fitzwater's life is really important.
Facing Goob is a recovery period which does not allow him to put weight on his legs for two to three months. "Going to be hard on him," said Rick. He was already lifting his upper body by a hospital bed device yesterday.
Here in our tiny village on the hill, it will be an awesome experience to glance out the window in a few months and see Goob jogging down our country road, with that wonderful grin.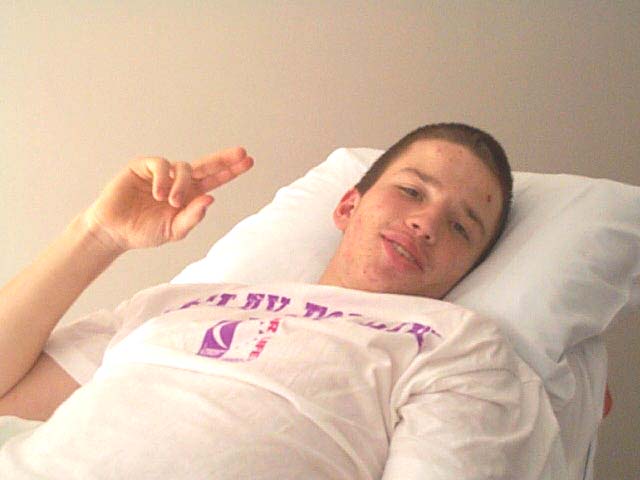 Welcome home, Goob!