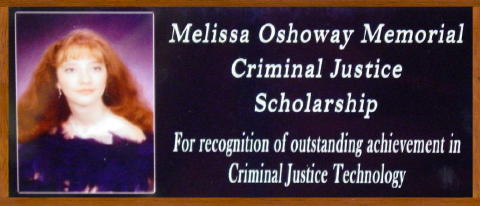 The Melissa Oshoway Criminal Justice Scholarship was formed by friends and family in memory of Melissa "Missy" Oshoway, daughter of F. John Oshoway and Sue Oshoway of Mt. Zion.
Missy was in a car accident on Christmas Eve 2004 and passed away on January 5, 2005. In an effort to see that this vibrant woman's memory lives on, the Melissa Oshoway Criminal Justice Scholarship Fund was formed.
The scholarship will benefit a youth pursuing a degree in Criminal Justice and will be awarded each year in the amount of $1,000.
The deadline to apply for the 2006 scholarship is April 25, the recipient will be named and presented with the scholarship on May 4 at 6:30 p.m. at the Calhoun-Gilmer Career Center.
This scholarship is available for Calhoun and Gilmer County students. Missy was a hard worker and very dedicated to school.
Those who met her described her as a ray of sunshine.
"It is our hope that those who knew her will honor her memory by supporting her scholarship fund annually. In this special way their gifts will continue to do what she loved to do - help others," said the Oshoway family.
This will be a special tribute to her caring spirit and the funds will assist in the education of students dedicated to achieving their goals as Melissa did.
If you would like to help, please send donations to: Melissa Oshoway Criminal Justice Scholarship Fund c/o P.O. Box 136 Grantsville, WV 26147. Those who have questions about this fund or about applying may contact one of the committee members listed below.
Sue Oshoway 354-9204 or 655-9931
John Oshoway 354-9204 or 655-9931