By Bob Weaver

Michael Offutt has been hired as principal of Calhoun High School, replacing Greg Cartwright who was recently hired as Director of Curriculum in the county office. Numerous personnel changes were made during a lengthy session of the Calhoun County Board of Education Monday evening.

Middle School principal Jane Lynch has been moved to the county office as Director of Federal Programs, replacing George Ward who has resigned.

Curriculum Director Greg Cartwright gave a report of SAT-9 scores, stating eighteen areas exceeded state averages, but five did not meet the national average. SAT-9 scores have recently been given to school board members.

SAT-9 scores, particularly in Grade 9 at Calhoun High School, have been falling below the standard, and could mean the school could be placed on probation. The problem is expected to be addressed this fall by the State Board of Education.

Cartwright did not discuss the issues with the board at Monday's meeting. He did say in grades three and seven, Calhoun students tied for the highest SAT-9 science scores in the state.

The board went into an executive session for nearly two hours discussing personnel issues, after which Superintendent Ron Blankenship moved to offer a contract to Tim Davis as boy's basketball coach, with board members voting 2-2, the absence of President Rick Fitzwater unable to clear the tie-breaker. It was unclear what the tie vote meant. Voting for Davis' contract, Berdine and Frederick. Voting against Davis' contract, Simers and Cunningham.

The board could have discussed replacement of administrators at Calhoun Middle and High School in the executive session, with Michael Offutt and Jane Lynch leaving. Those jobs have yet to be posted.

Teacher Bob Bonar spoke to the board in behalf of the school band and the music department. He said the group was concerned about the band director position becoming part-time, but the board later hired Faye Chambers as an instructor in music, choir and band.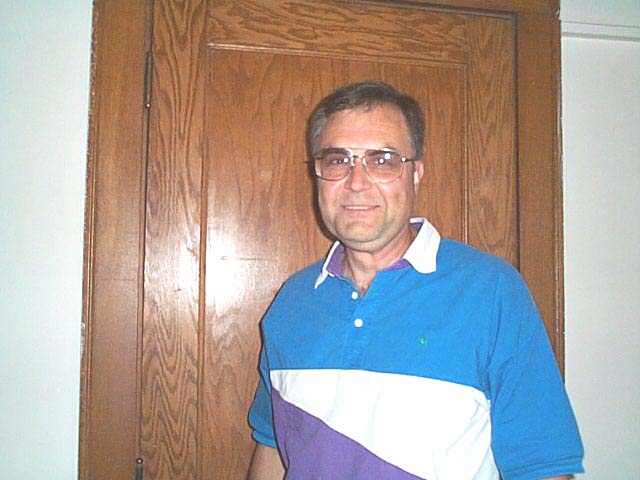 Bonar speaks in behalf of music
Bonar said "Music is not the priority it use to be." He expressed his concern and the concern of parents and students about the future existence of the band, whose numbers are dwindling. "We don't want to see it die. We want to alert you we are worried."
He said "Not to bash block scheduling," but the choices have been narrowed when it comes to electives, no time to teach music. "Without a feeder program in middle school, very few students will learn a musical instrument," he said.
Bonar said very little assistance is given music and the arts, compared to athletics. Mary Wildfire and daughter, Cynthia spoke on behalf of the music department, and other visitors appeared in support. She said "We are concerned about the future of band camp. This is where the students learn," she said.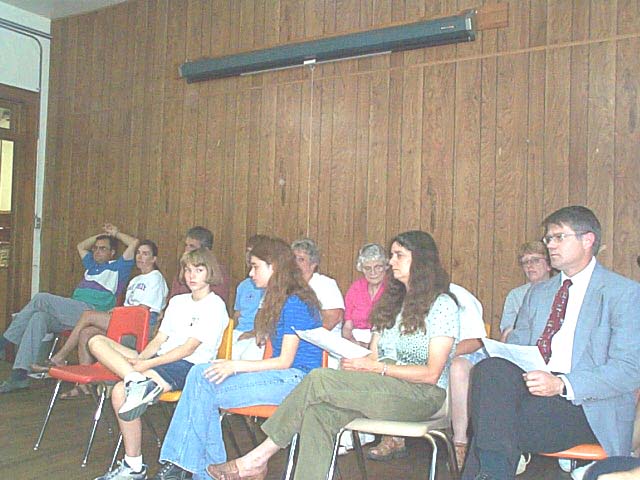 Concerned teachers, citizens and students attend meeting
Lisa Goodrich spoke to the board in an executive session regarding personal concerns, and Peig Schmitz addressed the board regarding the upcoming "Lights On Celebration" which will be held at Calhoun Middle/High School on Monday, October 1. A free Pop Concert will be given to the county by the Wheeling Symphony Orchestra.
Donnie Pitts gave a report on the new bus garage, stating he is hopeful the facility will be in use this summer. Roger Propst said progress is being made on the athletic complex, the press box and facilities building. He indicated earlier the decision to play on the new field or return to Wayne Underwood Field is still up in the air.
The board approved out-of-state transportation requests, staff development plans and early graduation and release issues.
Personnel
Resignations:
Donald Price, Cross Country Coach
Linda Ward, Effective 8/20/01
Ronald Gordon, mowing contracts, Arnoldsburg and old CHS football field
Tim Abel, Custodian, Pleasant Hill summer programs
Bronson Hickman, Bus operator, summer programs
Jobs Posted:
Principal, Calhoun High School
Director of Federal Programs
Mowing contract, Arnoldsburg
Mowing contract, Old High School
Computer Applications instructor, Summer, CHS
Cross Country Coach
Lights On Site Coordinator, CGCC
Employment:
Michael Offutt, Principal, CHS
Jane Lynch, Director of Federal Programs
Bernard Miller, Arnoldsburg/old HS mowing
Karen Kerby, Computer Applications Instructor, summer, CHS
Joanna McKown, Science, summer institute CMS
Sharon Pitts, 1/2 Chemistry, CHS
Jason Swearingen, Temporary Multi-classified service personnel (effective 6/27/01)
Tim Davis, Head Varsity Boys Basketball Coach
Roscoe Gainer, Assistant Varsity Boys Basketball Coach
Mike Stump, Head Varsity Wrestling Coach
Heilman Stewart, Assistant Varsity Wrestling Coach
Stacy Wagoner, Student Mentor, Pleasant Hill
Jason Fox, Student Mentor, CMS
Greg Cartwright, Vocational Director
Tim Abel, Bus operator, summer programs
Gary Knight, Contract, planning period
Joyce Holbert, Custodian, Pleasant Hill, summer programs
Scott Bunch, Head Middle School Boys Basketball Coach
Amanda Morris, Middle School Cheerleading Coach
Paul Goodrich, Assistant Middle School Football Coach
Bryan Sterns, Assistant Varsity Football Coach (volunteer position)
Christopher Stewart, Substitute Bus Operator
Change of Status:
Jaden Beall, Mentor, Pleasant Hill Summer Academy, from 4 hours to 8 hours per day
Donald Price, Site Coordinator, CHS, 6 hours per day to daily rate of pay
Larry Baker, from 220 days to 240 days
Paula Boggs, Extended school year
The board approved finances. The next meeting is scheduled for August 13.