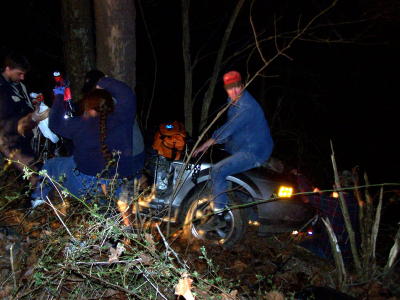 A driver received injuries after his vehicle went out of control on Rt. 16 between Minnora and Chloe late Saturday.
The victim was trapped in the vehicle, the extent of his injuries was not available.
Emergency personnel worked for over 45 minutes extracting the male driver, who was then taken to Charleston Area Medical Center by Calhoun EMS.
HealthNet was summoned to transport the victim, but because of poor visibility, could not land at the Upper West Fork VFD.
The auto reportedly struck a pole, downing a telephone line, before it crashed over the hill, landing against trees.
The accident happened about 10:30 p.m.
Calhoun EMS dispatched two ambulances to the scene.