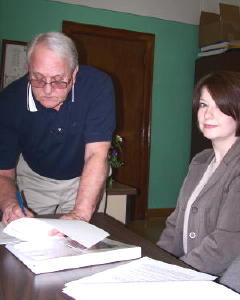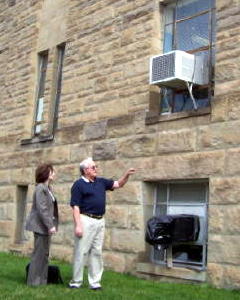 Larry McCallister and Kris Richmond
sign grant and look at worn-out courthouse windows
Calhoun received a $56,000 improvement grant yesterday for the county courthouse. The county commission will advertise for bids to install 101 replacement windows for the 64-year-old structure.
"We may have some really good news about the window replacement," said commission president Larry McCallister, indicating "It could be that we can get all windows replaced."
Most of the windows are likely original.
McCallister said if all the windows are replaced it would help the natural gas heating bill for the building, which spiked to $6,500 during December.
Kris Richmond, administrative assistant for the Courthouse Facilities Improvement Authority, presented the documents to commission president Larry McCallister for signing.
The commission did receive some negative news. A grant proposal to install an elevator was denied again. The effort to get an elevator in the building has been ongoing for several years.