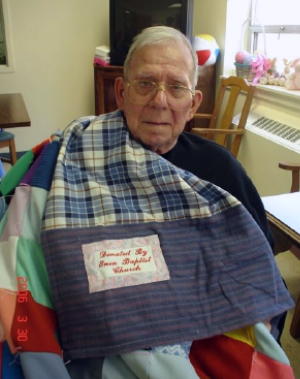 Ray Bartlett shows off his plaid lap robe
"It was a lot of fun and fellowship, a great feeling of having done a good job and having done something good for the community," said volunteer Paula Roberts.
The Enon Baptist Church group got into the quilting business, making 24 lap robes for Minnie Hamilton Health Care long-term patients.
"A friend of mine had some quilt squares already cut and ready to be put together. Denver and I went to Marietta to pick up the squares and much to our surprise there was a truck load of quilt squares," said Roberts.
The Enon group put the squares into a quilting project.
The whole church participated in the project by donating time, material for the backing and money for thread.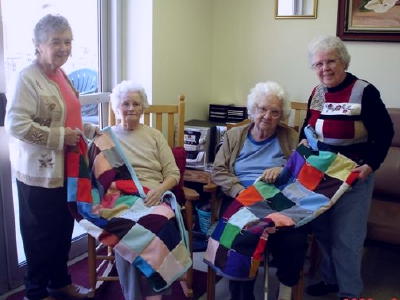 (L-R) Loretta Siers, Irene Bartlett, Ellen Hardman and Gerry Wallace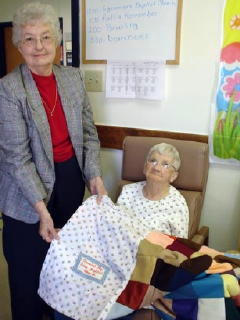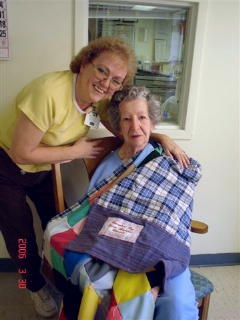 (L) Paula Roberts (left) and Retta Johnson
(R) Janet Poling (left) and Geraldine Kelly
The quilters were Paula Roberts, Denver Roberts, Madaline Moore, Gerry Wallace, Loretta Siers, Joann Shock, Denise Rexroad, Ruth Wright, Linda Harris, and Judy Morton.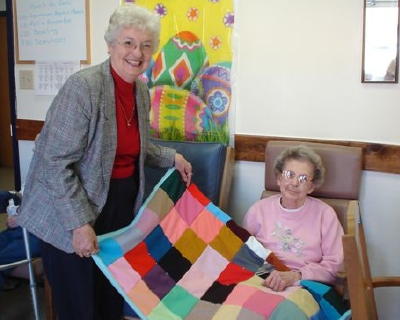 Paula Roberts (left) and Bessie Basnett