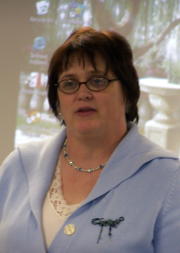 A Town Hall Meeting on underage drinking held yesterday evening at the Grantsville VFD did not draw a single interested parent.

The forum was attended by a few community leaders and elected officials.

Shari Johnson (right) director of Calhoun Middle-High School Youth Force Project, said the "The culture needs to be changed before the underage drinking problem can be addressed."

She said alcohol problems grow out-of-control because of many levels of denial.

"It is an epidemic problem across America, and right here in Calhoun too," Johnson said.

Calhoun is joining 20 West Virginia communities that are joining hundreds of communities nationwide, by holding Town Hall Meetings about underage drinking.

"Since underage drinking is a critical health and safety issue, it is important for everyone to get involved," said Johnson, "We will continue to ask for community support to try and help our kids."

Those attending the meeting were given some new research about alcohol problems and young people, and how drinking problems can be prevented.

The forum was sponsored by the Calhoun Middle-High School "Heads-Up" program and the Calhoun Middle-High School Youth Force.

Those attending enjoyed a free meal prior to the meeting.