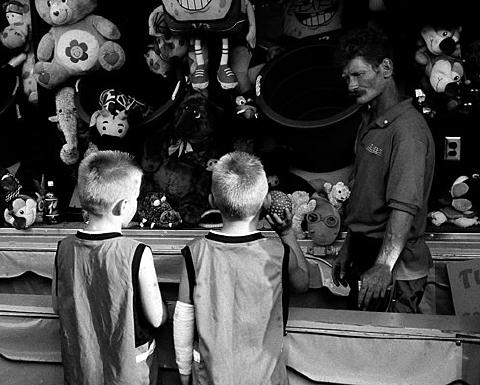 Folks enjoying fairs and festivals in nearby Wirt and Roane County
Story by Bob Weaver
Photography by Chet Dowell
Photographer Chet Dowell (left) is capturing life in Calhoun County and our region, the year of Calhoun's 150th anniversary, the beginning of a new millennium.
Dowell, who lives close to the Village of Hur, is a well-known professional photographer whose works have been acclaimed and sold around the USA, but is now focusing on life in the hills of Calhoun County.
See photo gallery www.chetdowellphotos.com
People used to get out of their houses and entertain themselves.
They still do, but not quite as often.
A few surviving old timers will remember the county fairs, hot air balloons, buggy races, and frequent carnivals and circuses holding forth at Grantsville and Arnoldsburg.
Stage and medicine shows, live entertainment at the Orma, Kanawha and Mt. Zion movie shows, and other big name events at Log Cabin Park and Arnoldsburg. There was even a movie house at Arnoldsburg.
In more recent years, the outside events include the Wood Festival at Grantsville, the Molasses Festival at Arnoldsburg, the Ramp Dinner and Bluegrass Fests at Chloe, the annual Alumni Day at Calhoun Middle-High School, the Mt. Zion Ox Roast and the Appalachian Bike Race at the county park.
There are many more gatherings throughout the year, including lots of family reunions.
All the events represent community life in rural Calhoun County.