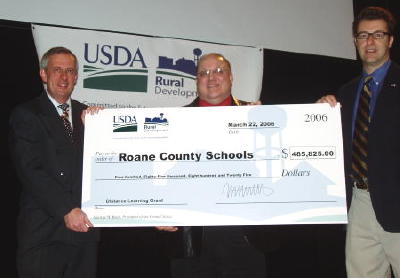 Pictured (L to R) Accepting the Distance Learning Grant award on behalf of Roane County Schools is Superintendent Stephen Goffreda and Assistant Superintendent-CFO David Kinison. Presenting the award is West Virginia USDA Rural Development State Director Rob Steptoe
Roane County Schools held a celebration ceremony yesterday at the Roane County High School to commemorate their award of a Distance Learning Grant.
They were one of three recipients to be awarded Distance Learning and Telemedicine Grants in the State of West Virginia.
Roane County Schools received $485,825 to enable VOIP interactive learning.
Wireless mobile learning labs will be purchased for each elementary school which will be supplemented by notebook PCs, also whiteboards and digital projectors for teachers.
Roane County's six campuses will be the end-user sites. Over 2,500 students and faculty, as well as the county's entire population of 15,627 will benefit directly from this project.
USDA Rural Development State Director Rob Steptoe and Field Representative Ron Mellon from Washington, DC, were on hand to congratulate the public school system and present them with the funds.
Roane County Schools Superintendent Stephen Goffreda and David Kinison, Roane County Schools Assistant Superintendent and Chief Financial Officer, represented the school system.
Nationwide, there were 79 recipients of these highly competitive program grant funds.
Federal and State Government officials, stakeholders and potential grant recipients were in attendance and joined in this celebration.
Among those present were representatives Dot Underwood from Governor Joe Manchin's office, Shirley Dissen from Congresswoman Shelley Moore Capito's office, Terry Williams - Mayor of Spencer, Roane County Commissioner John Greathouse, Board of Education President Richard Boggs, Delegate Bob Ashley, Pam Hoppe - WV Office of Technology, Board of Education members and several Roane County High School principals, assistant principals, students, teachers, parents, and staff.
The Distance Learning and Telemedicine Program is designed to enhance educational and health care services in rural America. During the past five years, USDA Rural Development has invested over $4.6 billion in telecommunications programs across America.