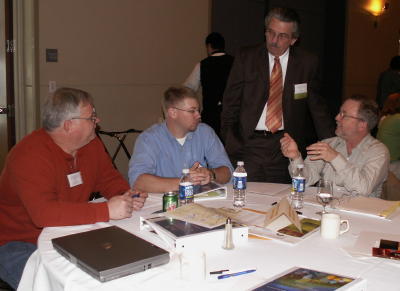 L-R: David Johnson, Brent Barr and Bill Ellis discuss their community meth issues with Steve Mason, Director, Division of Alcoholism and
Drug Abuse, West Virginia Department of Health and Human Resources
JOHNSON CITY TN - Five members of a newly formed Calhoun coalition are attending a drug prevention conference in Johnson City, Tennessee.
The conference is centered on "A Community Approach to Address Substance Abuse, including Methamphetamine in Appalachia."
The new coalition includes representatives Bill Ellis and Brent Barr from Minnie Hamilton Health Care Center, David Johnson, representing Calhoun County 911, Grantsville Volunteer Fire Department as well as the environmental aspect with the Grantsville Water Treatment plant, Sandy Ellenwood of the Mid-Ohio Valley Health Department and Shari Johnson, representing Calhoun County Magistrate Court and the Calhoun Middle High School Youth Force.
Other members from the Calhoun agencies are welcome to join forces with this coalition which will begin meeting soon.
The working conference for rural Appalachian Communities kicked off at the Millennium Park in Johnson City, Tennessee, on the campus of East Tennessee State University.
Community leaders from Alabama, Kentucky, South Carolina, Tennessee, Virginia and West Virginia spent three days comparing notes on programs already active in their community and discovering inventive ways to tackle the problems associated with meth use, meth labs and other substance abuse issues.
Stakeholder groups were formed and community plans were created during a variety of workshops focusing on preventing and dealing with substance abuse, including Methamphetamine.
Members of each community helped to develop messages for the public and policy makers about substance abuse in the Appalachian region.
Calhoun County's Coalition looks forward to getting back home and sharing their newly acquired information with the community.