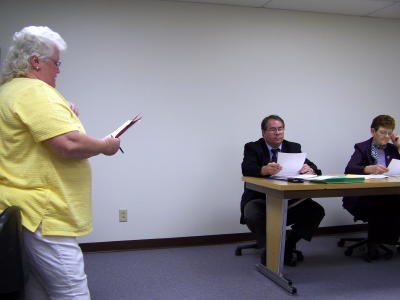 Irona Yeager booster president addresses board regarding
transportation concerns (left to right) Superintendent
Ron Blankenship and Board President Carlene Frederick
Roger Propst, a spokesman for the Calhoun Middle School boosters group, said it is unfair to have extra-curricular groups pay gasoline mileage when the school board eventually gets reimbursed 90%.
Propst has called the current policy "double-dipping."
He told school board members last night "These costs are significant to these groups."
Superintendent Ron Blankenship told the board and several interested individuals attending the meeting that the system just received a special supplement of $23,000 to help defray transportation costs, taking the heat from the problem this year.
"Next year could be a different story," he warned.
"The issue of charging activity groups 30 cents a mile has been brewing for several months," said Irona Yeager, president of the Middle School Boosters, volunteers that have given significant support to middle school sports.
"I'm proud of our school's athletic accomplishments, and what our group has done to help them," said Yeager, saying it would be very difficult to keep the programs going without such help.
"Our athletes have been fantastic," she said, "They shine."
The boosters have financed everything from helmets to uniforms to balls and sports banquets.
Yeager complained she had been unable to find out about how gate receipts are spent.
"We've (boosters) given the school $1,000 to help with expenses," she said, but couldn't come up with $1,900 requested the following year.
Administrator Donnie Pitts gave a report to board members regarding how other WV counties are dealing with the high price of fuel. Most counties that have special levies are absorbing the increased costs, while others are charging up to $1.25 a mile.
Board president Carlene Frederick said "I know the board wants to do what is fair," with board members calling for a vote on the issue at the next meeting.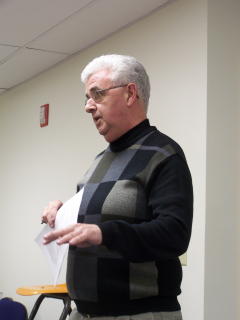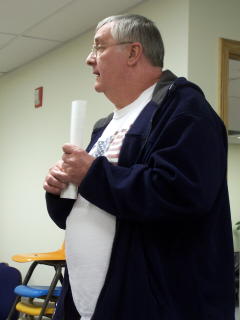 Supporting policy change, volunteer Roger Propst (left)
and Lee Evans (right), school board candidate
Superintendent Blankenship spoke about the bottom-line, "We have to keep the system in the black," saying the money has to come from somewhere. He said the cost of gasoline is only part of the cost of providing extra trips. Boosters and other groups already pay for the drivers.
School board candidate Lee Evans gave support to the booster groups, asking the board to "make this their contribution to the athletes of the county" by rescinding the current transportation policy.
Pitts said he surely did not want to see students be transported by private vehicles to events. "Whatever the costs, we need to keep our kids safe," he said.
Yeager expressed "We're a poor school. If we have to give the money back, it's not worth it. We can't do it."
"Just like you, we want to solve this problem for the boosters, the students and the system," Blankenship said.
Board member Rick Fitzwater said "It is rewarding to have the citizens get together in a cordial and professional manner."
Other news about last night's board meeting to follow.