CALHOUN'S 150TH 1856-2006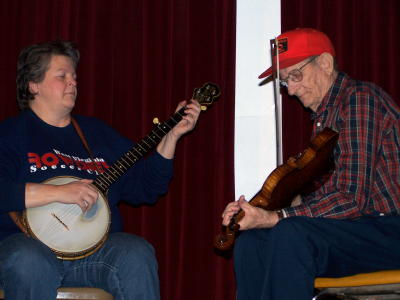 Kim Johnson (left) and award-winning mountain music maker
Lester McCumbers (right) entertain Calhoun Middle students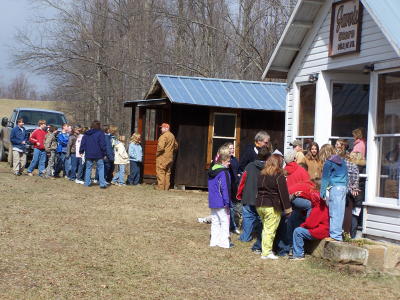 Middle School students tour Calhoun's historical village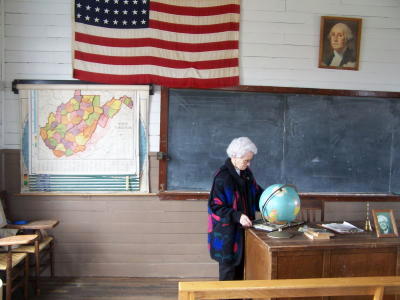 Retired teacher Bernice Stump tells students about one-room schools
Roger Jarvis demonstrates fixtures of Jarvis
General Store, moved to the park from Oka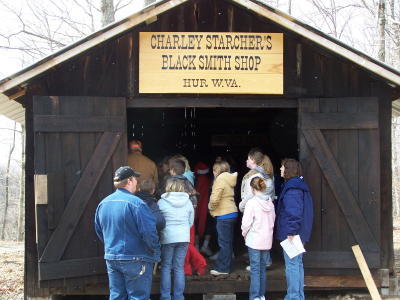 Jim Bell conducts tour of Charley Starcher's Blacksmith Shop from Hur
By Bob Weaver 2006
The county's 100th birthday involved just about everyone in the county. People came out by the thousands to participate.
50 years later, a school event was the only celebration, or "My how times have changed."
Friday was Calhoun Sesquicentennial Day at Calhoun Middle School, recognizing the county's 150th birthday which is tomorrow, March 5th.
During an assembly in the school auditorium, featuring a power-point presentation about the history of the county and county schools, Calhoun's acclaimed mountain musician Lester McCumbers (accompanied by Kim Johnson) played fiddle tunes going back to the the 1800s.
The entire middle school then went to Calhoun Park to tour the historical village, eat lunch and participate in recreational activities.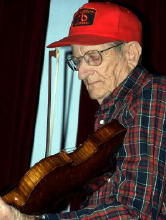 McCumbers (pictured left) engaged the students, grades 5-8, telling them his first fiddle was ordered from Montgomery Ward for $9.95.

"I learned how to play by listening to my father and other old-timers. They were all nearby, because we nearly always had to walk," he said.
The students joined in with toe-tapping and clapping to several of the square dance numbers.
McCumbers featured in Goldenseal
Fiddler McCumbers releasing CD
McCumbers given lifetime achievement award
McCumbers fiddlin' wins Folk Festival
Krack and McCumbers fiddle in Washington
Jim Bell, Roger Jarvis, Duck Stevens and retired teacher Bernice Stump, gave tours of the four historical structures, the Steven's one-room school from Pine Creek hill, the Freed Post Office, the Jarvis Store from Oka and Charley Starcher's Blacksmith Shop from Hur.
Stump spent time with the students who occupied the old desks of the restored school, sharing with them her experiences teaching in several one room schools, the last being closed about 1980.
At least 104 one-room schools dotted the county starting about 1900, so students would not have a walking distance of more than two miles.
Roger Jarvis said the Jarvis Store has continued to be filled with items connected to general stores in the early part of last century.
Recently completed Freed Post Office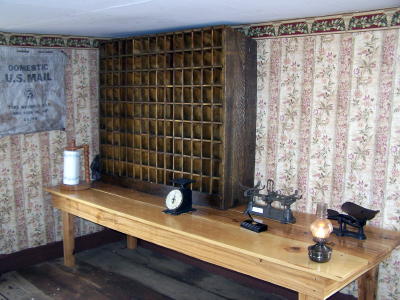 Duck Stevens said the old wallpaper
added a nice touch to the Freed Post Office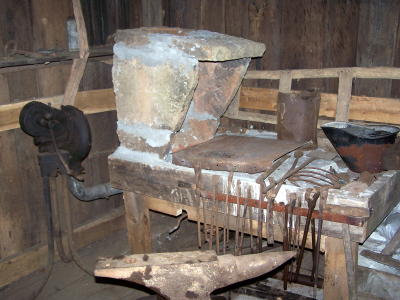 Jim Bell says "Charley's equipment is the real thing"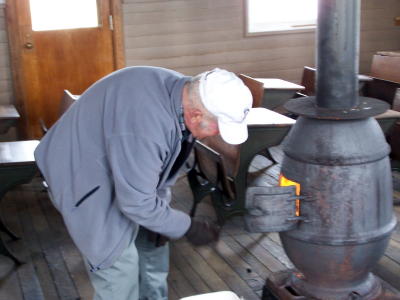 Stevens fires up pot-bellied stove on a really cold day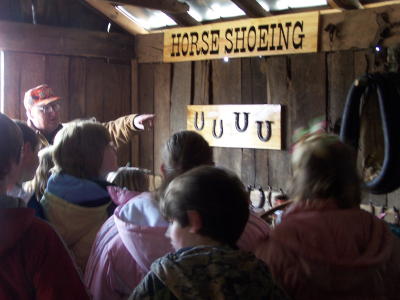 Bell explains horseshoeing to Calhoun kids
Jim Bell said Charley Starcher's Blacksmith Shop contains the real equipment used by the old-timer, in addition to lots of other artifacts and tools from early life in the county. "We're really proud of it being here," he said.
Duck Stevens said the Freed Post Office, which has an outdoor mail slot for 'round the clock deposits, was recently wall-papered, restoring it to its original presence.
Calhoun Middle students had lunch at the barn, enjoyed recreational activities around the park and walked in small groups for the village tour.
HISTORY DAY WAS ALSO FILLED WITH HIGH-ENERGY ACTIVITY