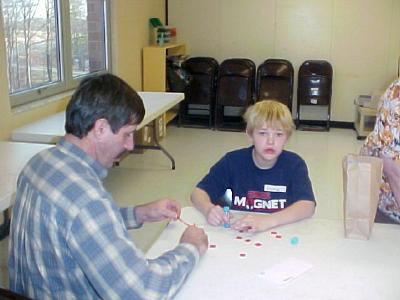 Jeff Himes and Josh Settles
Submitted by WVU Extension Service-Calhoun Office
The Calhoun County Community Educational Outreach Service (CEOS), formerly Extension Homemakers) along with WVU Extension Service have completed five of the six weeks of the "Character Counts" Program.
The classes serve students K-4 as part of the "Heads Up" Program at Pleasant Hill Elementary School. The last class will be March 1st.
Character Counts deals with six important character traits: trustworthiness, respect, responsibility, fairness, caring and citizenship. We will define each pillar of character by using role-play, skits, story time, crafts and other activities to impress upon the children how important it is to have good character traits.
The topic for February 20th was caring.
Sandy McCumbers, Diana Shook, Marcia Swisher, and Pat Radabaugh taught the class. The highlights of the class on Caring was reviewing the do's and don'ts of caring, making a flower, a collage of pictures, and continued work on our take home mobile.
Caring Do's
Show you care about others through kindness, caring, generosity and compassion.
Live by the Golden Rule by treating others the way you want them to treat you.
Think what every decision, word, or action will do to other people.
Caring Don'ts
Don't be selfish! Don't be mean! Don't be cruel! Don't forget the feelings of others! Don't do anything without thinking about what it will do to other people.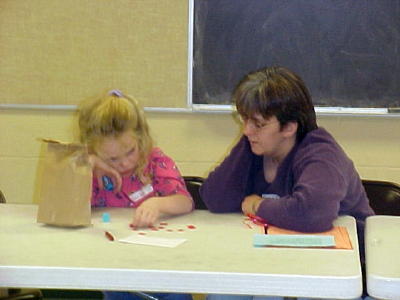 Zaylah Taylor and Sandy McCumbers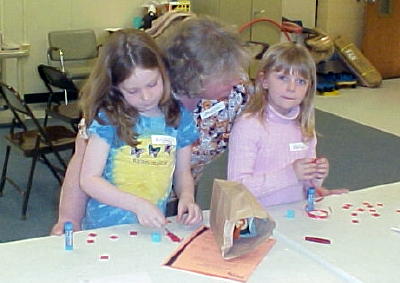 Andrea Frymier and Mariah Jones