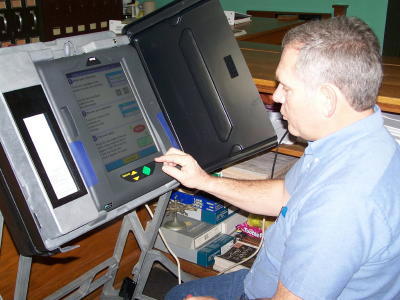 County Clerk, Richard Kirby demonstrates new voting machine
The Calhoun Clerk's office is bringing the new touch-screen computer voting machines to a community near you, according to Clerk Richard Kirby.
"Personnel from my office will be at several locations to assist voters who want to learn about the system," said Kirby.
Kirby also said there are three machines set-up in his office at the court house, for voters who would like to stop by.
Any business or civic group that would like a demonstration should call 354-6725.
March 6 - CCCOA building at Minnora 9-11 a.m.
March 7 - Five Forks Store 8:30-10:30 a.m.; Parsons One Stop 12 noon-2 p.m.
March 8 - Holbert's Store, Big Bend 8:30-10 a.m.; Calhoun Library, Grantsville 2-5 p.m.
March 9 - Speedy Mart, Arnoldsburg 1-3 p.m.; Upper West Fork Park, Chloe 5-7 p.m.
March 10 - Grand Central Mall, Parkersburg