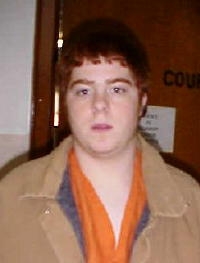 An appeal was heard yesterday before the West Virginia Supreme Court for a new trial for Ronnie Rush.

Rush was convicted in the voluntary manslaughter of Ward Groves, 69, and Mary Hicks, 60, and was also sentenced up to 40 years for robbery.

Rush, who was 16-years-old at the time of the 2003 brutal double murders, was tried as an adult.

Speaking before the high court, public defender Teresa Monk outlined a number of errors by the West Virginia State Police, alleging the officers and the trial court violated Rush's legal and constitutional rights.

Monk outlined a series of events while Rush was in State Police custody over an 18-hour period that ignored due process, saying they ignored the youth's rights to counsel, including not having his parents present.

The appeal says that "During a pre-interview session ... the defendant requested counsel."

"The young man was not allowed to speak to a counselor, or even his parents, except one brief phone call. They fed him once," she said.

Monk's appeal says that Rush should have immediately been taken before a referee, judge or magistrate, instead of being held in custody for such an extended period of time.

The initial investigation was conducted by Trooper Doug Starcher and Sgt. Jeff Cooper. Monk indicates that officers gave contradictory testimony several different times throughout the trial.

Monk told the court that another officer, supervisor Sgt. Dale Fluharty, burst through a door where a polygraph test was being administered to Rush.

"Sgt. Fluharty was pretty irate and began cursing at the 16-year-old young man, and threatened him with some violent threats about knocking his head off, according to the testimony," said Monk.

Rush then became scared and asked for the polygraph to be stopped and asked for counsel.

Testimony indicated Fluharty was angry because Rush had "lawyered-up."

The record indicates Fluharty didn't inform detachment commander Sgt. Jeff Cooper of the youth's request for an attorney.

Fluharty said "I didn't think it was relevant."

Fluharty was reprimanded for his unprofessional misconduct, and was suspended from work for one day.

Monk told the justices she was making a major point regarding violations over transferring the juvenile to adult status, which she said were ignored.

Rush has been sentenced to 40 years in the state penitentiary for robbery, and two indeterminate sentences of 15-40 years for two offenses in the voluntary manslaughter.

There was no time frame given by the court for a decision regarding the appeal.

Key points mentioned in the appeal:

- The Circuit Court erred in denying a motion to suppress his out of court statements because the State violated the Prompt Presentment Rule.

- The Circuit Court erred by transferring Rush from juvenile to adult status, essentially failing to consider his mental and emotional status, his education, family background, and other personal factors.

- The Circuit Court erred by abusing its discretion by allowing the State to use out of court statements that were coerced from Rush.

- Issues related to insufficient evidence related to the aggravated robbery charges.

- The Trial Court erred by abusing its discretion by refusing to transfer the case back to juvenile court when the charges elevating the case to adult status were dismissed.