By Lawrence J. Smith

Photo by Bob Weaver

Glenville - A Glenville State College presidential candidate categorically denied he falsified his credentials six years ago in his successful bid to become president at a Pennsylvania college.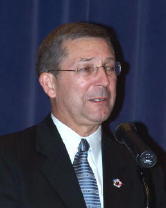 Col. Henry Zimon, (left) former president of Albright College in Reading, Pa. was on campus Monday and Tuesday to make his case to the college community why he should be Glenville's next president. Current Glenville president Robert Freeman is retiring June 30.
Zimon is among three candidates from a pool of 70 the college selected last week. He is competing against Peter T. Barr, provost and chief academic officer of Coastal Carolina University in Conway, S.C. and Wills Perry, a Glenville alumnus and former member of the Glenville Board of Governors from Charleston, WV.
When Zimon was a candidate for the presidency at the liberal arts United Methodist college in 1999, faculty members led by communications professor Alchal Mehra, implored the college's board of trustees to not hire Zimon based on inaccurate and misleading information he provided about his credentials.
After the college decided to hire Zimon, the faculty continued its case about Zimon's unfitness to be president leading Zimon and other administrators to initiate disciplinary proceedings against Mehra.
Chief among the concerns raised by Albright faculty on Zimon's resume were two books he claimed were in the process of being published, his teaching credentials and some of his responsibilities as a member of the Joint Chiefs of Staff.
Through their investigation, which included obtaining documents via the Freedom of Information act, the faculty alleged these credentials to be bogus.
The lingering allegations topped the questions posed by those attending Tuesday's open forum at Presidents Auditorium. When asked if he'd misrepresented his credentials to the Albright trustees, Zimon was unequivocal in his response.
"Absolutely not," Zimon said. "I have never even lied to mom and dad."
Zimon, 57, a 1970 U.S. Military Academy graduate who finished a 29-year career in the U.S. Army before becoming Albright's president, stated on his resume two books of which he was co-author were under contract and in the final stages of publication. One book was Reshaping U.S. National security Strategy, and the other CFE: [Conventional Forces Europe] The Making of the Treaty and Its Implications for the Future in which former CIA director R. James Woolsey was the other co-author.
When contacted by the Chronicle of Higher Education, Peter Kracht, publisher of Prager - the company Zimon claimed was publishing Reshaping U.S. National Security Strategy - said no book was in the works. Zimon, Kracht said, contacted them about the idea for the book, but hadn't done anything since 1992.
Also, when the Chronicle contacted Woolsey, he claimed to have no knowledge of such a proposal. However, he later stated he vaguely recalls Zimon mentioning the idea to him, but, again, not discussing it any further since the early 1990s.
Faculty were miffed to learn that Zimon's teaching experiences at Harvard University and the Massachusetts Institute of Technology were overstated. Zimon claimed he was a post-doctoral fellow at Harvard's Kennedy School of Government from 1991-1992 and was on the board of MIT's Center for International Studies.
However, Albright faculty learned Zimon was a National Security Fellow at Harvard and gave a one-time only slide presentation. Also, his participation at MIT was limited to serving the board for one program presented by the Center.
Faculty further alleged Zimon embellished his resume by overstating his responsibilities as a senior strategic planner for the Joint Chiefs of Staff, his final military assignment prior to becoming president of Albright.
Zimon claimed he had authority to sign checks in the "millions of dollars" and had oversight responsibility for the Department of Defense's various universities.
Obtaining documents under the Freedom of Information Act, the faculty learned that not only was another individual responsible for disbursement of funds, but also all transactions were done via electronic transfer.
Also, the only evidence Zimon could show he oversaw the Pentagon's educational system was an anonymous, redacted letter stating that the Joint Chiefs' role was similar to that of a chancellor of state university system.
Despite the faculty bringing the misrepresentations to light, the Albright board of trustees decided on February 9, 1999 to hire Zimon effective in June. Undeterred, the faculty, led by Mehra, forged ahead with its campaign to have Zimon account for the inaccuracies on his resume including the creation of a Website called zimonisafraud.com.
Zimon said the Website was part of Mehra's campaign of harassment against Albright administrators including his predecessor Ellen Hurwitz, now president of American University - Central Asia. Mehra, Zimon said, had trouble with authority.
"He was a publicly avowed anarchist," Zimon said. "His modus operandi was to stir the pot. I had a bad apple on the faculty."
In May 2001, the clash between the two came to a head when Zimon sought to have Mehra fired. Zimon issued a 67-point complaint against Mehra accusing him of "professional unfitness" and "moral turpitude."
Mehra fought back by making the charges against him in public. With the assistance of the Foundation for Individual Rights in Education, a Philadelphia-based civil liberties organization, Mehra was successful in putting enough pressure on the college to have all charges against him dismissed in September 2001.
Three years later, Zimon resigned as president of Albright. In his resignation letter, dated February 20, 2004, Zimon cited only "personal and family issues" for his departure.
Zimon's resignation came shortly after a panel of consultants appointed by the college's board of trustees submitted its recommendations for the college's capital improvement campaign. Albright spokeswoman Barbara J. Marshall told the Chronicle of Higher Education that the timing of the two events was coincidental.
R. Terry Butcher, a Glenville attorney and member of Glenville's board of governors, acting as chairman of the presidential search committee, said Zimon was chosen along with Barr and Perry for the strength of their resumes and references. Butcher said he was not aware of the misrepresentations Zimon made on this resume, but he did say the committee was aware of "some comments locally about things on the Internet about his previous presidency."
Butcher said he "suspected" some on the 13-member committee might have checked into the veracity of the allegations against Zimon's misrepresented resume. However, Butcher said, it is not the responsibility of the committee to delve into such matters.
"The process is in place with those who have questions about the candidate's resume to address in a public forum," Butcher said. "It would be Col. Zimon's place to elaborate."
Despite his categorical denials, Zimon didn't elaborate on the substance of the allegations other than to say they took on the life they did because Mehra obtained the college forms for news releases and used them to write his own. This and other "sustaining documents," Zimon said, were provided to Glenville's search committee.
Also, Zimon said people shouldn't make too much of the stories published by the Chronicle of Higher Education about his time at Albright. Zimon claimed he went to the Chronicle and pointed out some inaccuracies in their reporting.
"They kind of admitted they made an error, but it's very difficult to get reporters to admit they made an error," Zimon said.
When asked the nature of the error, Zimon said people should call the Chronicle to find out.