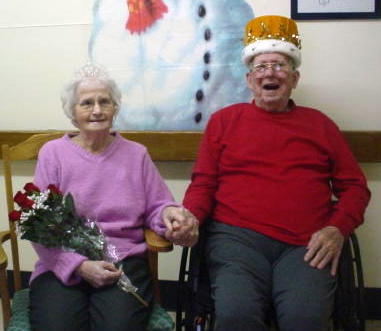 Submitted by Jan Poling
Minnie Hamilton Health Care Center Long Term Care Unit held their annual Valentine Tea on Saturday, February 11. The event began at 2 p.m. with the annual crowning of the King and Queen.
Irene Bartlett was selected as this year's Queen of Long Term Care. She was an employee of BF Goodrich, and was a secretary for her husband at Nationwide Insurance. She has enjoyed working in flowers and traveling. It is reported she had the most beautiful flowers on Bartlett Knoll. She was also very active in the church when her husband was a preacher.
Ray Bartlett was selected as this year's King of Long Term Care. He was a teacher, school bus driver, preacher, and insurance salesman working for the Nationwide Insurance Company. He has enjoyed the outdoors especially hunting. He and his family had a cabin where they used to meet to hunt. He has also enjoyed golfing and traveling.
This year's King and Queen are unique. They are the units first elected officials who are also husband and wife. They have been married for 59 years. They have enjoyed many years of doing things together and continue to do so as a couple in the nursing home.
Those present also enjoyed the music of the Soul Seekers and refreshments provided by Friends of Minnie Hamilton.