Contestants braved the cold and snow this past weekend, at the Second Annual Sweetheart and Baby Valentine pageants.

The events were held at Calhoun Middle High School on Saturday, February 11, and are sponsored by the Calhoun Wood Festival Committee.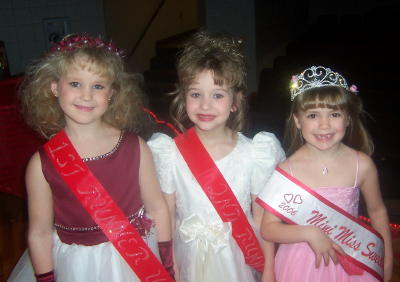 L-R 1st Runner Up, Victoria Allen; 2nd Runner Up, Kaylea
Montgomery; and Mini Miss Sweetheart, Bailey Jo Swisher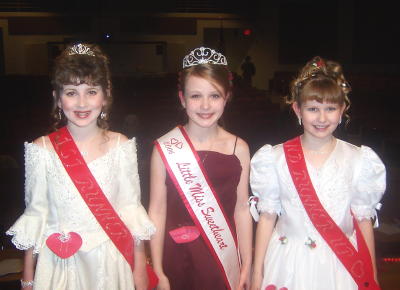 L-R 1st Runner Up, Danielle Richards; Little Miss Sweetheart,
Delaney Cunningham; and 2nd Runner Up, Sierra Snider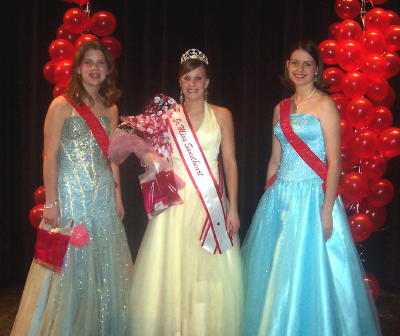 L-R 2nd Runner Up, Ashley Houchin; Miss Pre-Teen Sweetheart
& Miss Photogenic, Chelsey Ball; and 1st Runner Up, Leslie Garrett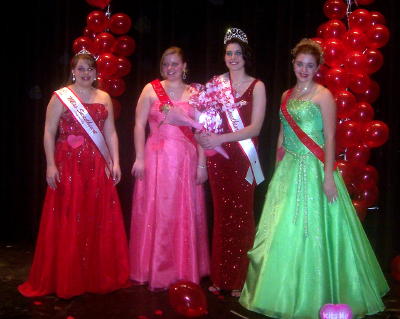 L-R Miss Congeniality, Trenda Overbay; 2nd Runner Up, Samantha Wilson (tie) Miss Teen Sweetheart, Hanna Law; 1st Runner Up, Ashley Conley - Not pictured is Nicolette Liles who tied for 2nd Runner Up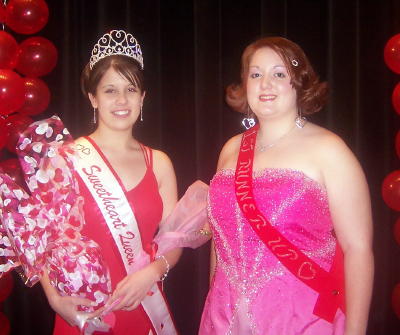 L-R Queen Sweetheart, Amanda May;
and 1st Runner Up, Caitlin Weaver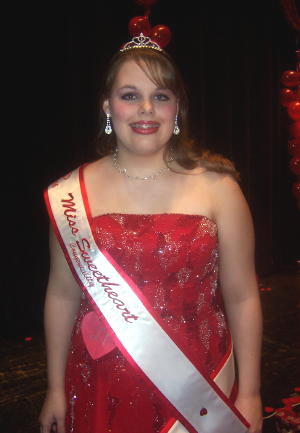 Miss Congeniality Trenda Overbay
Wood Festival Committee member, Crystal Kendall said Miss Congeniality is the title the committee finds to be the most important in the pageants. "Because it goes to the girl who shows the most sportsmanship and helpfulness during practice and the pageant," she said. "During this pageant, that honor went to Miss Trenda Overbay. Congratulations Trenda on a job well done," said Kendall.
"Due to snow, we only had a small turnout for the Baby Pageant but we had a lot of fun anyway," said Crystal Kendall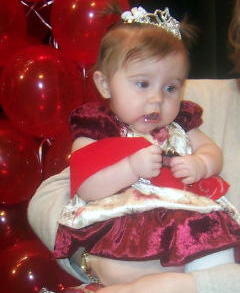 L - Baby Miss Sweetheart, Miss Haley Sampson
Not pictured - 1st Runner Up, Miss Ariety Hickman
R - Teeny Miss Sweetheart, Miss Mickaylee Cowan
Not pictured - 1st Runner Up, Miss Laini Gladden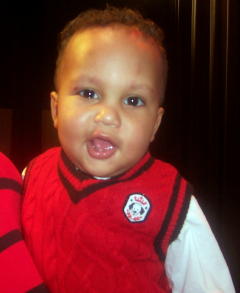 Teeny Mr. Valentine, Mr. Caleb Katahle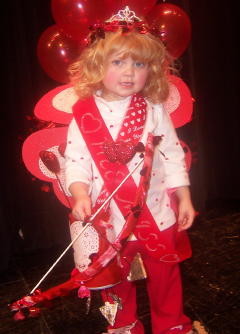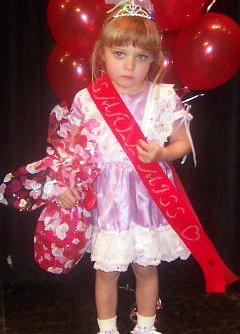 L - Wee Miss Sweetheart, Miss Summer Jones
R - Small Miss Sweetheart, Miss Keyanna Pettry
Congratulations go to baby contestants not pictured, Tiny Miss Sweetheart, Miss Emily Good; 1st Runner Up, Miss Josie Montgomery; and 2nd Runner Up, Miss Katie Albright