A late model sports utility vehicle spun out-of-control on rain-slick Route 16, crashing on its side just before noon today. The driver of the vehicle, John Sampson, 18, and a passenger, Matt Walker, 16, did not receive any serious injuries.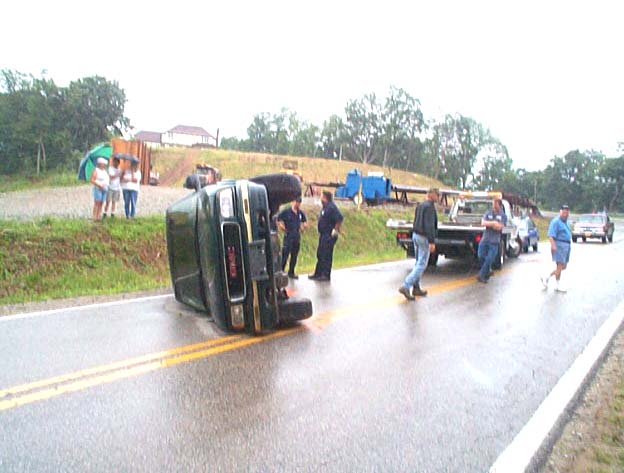 SUV lands on it's side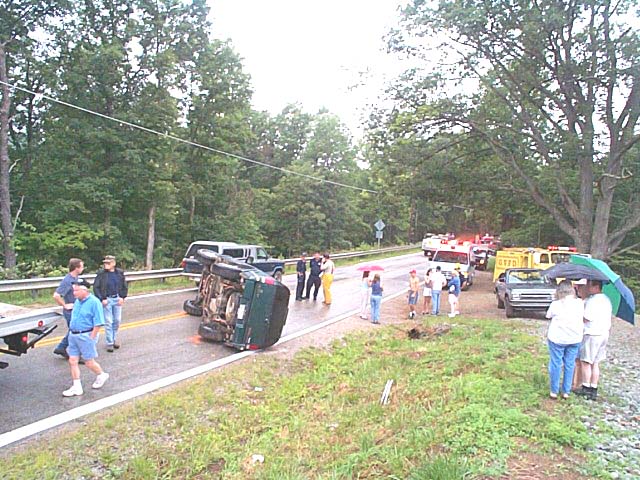 Occupants not seriously injured
Fire Chief Jim Garretson said the roadway was very slippery, caused by hot weather pulling oil to the top of the pavement and a rain-drizzle that started just before the accident.
The July Fourth wreck happened two miles north of Grantsville at 11 a.m., one of seven accidents reported in less than seven days in the county.
An early morning accident happened on Rt. 16 near the Millstone Inn, where an unidentified driver went over the hill and hit a parked car. Calhoun Control received the report at 1:39 a.m. No injuries reported.
Calhoun Sheriff Allen Parsons responded to the accident with Calhoun EMS and the Grantsville Volunteer Fire Department.
ACCIDENTS REPORTED IN COUNTY SINCE FRIDAY:
- Mt. Zion resident Chris Butt received injuries in a 4-wheeler accident last Friday evening.
- Melinda Hartshorn and Trooper Doug Starcher crashed on Phillips Run last Friday night.
- Ryan "Goob" Fitzwater was injured in a tractor accident on Monday.
- A former Ohio man and a Spencer man wrecked on Rt. 16 near Orma Tuesday afternoon, sending one to Roane General Hospital with serious injuries.
- Laura Pfeffer was taken to Minnie Hamilton Health Care Center after a single-vehicle wreck near Cabot Station late Tuesday night.
- An unidentified man wrecked his vehicle after it left Rt. 16 near the Millstone Inn and crashed against another car early July the Fourth.
- John Sampson and his passenger escaped injury when his vehicle went out-of-control on rain and oil slick Rt. 16, north of Grantsville, July the Fourth.