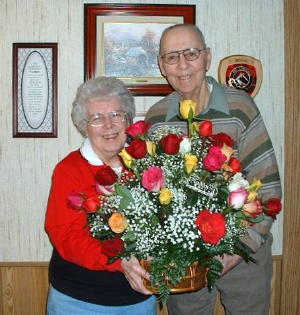 Gerry's sister, Madaline and 3 nieces, Beth, Lisa and Susan
and their families sent the Wallace's 50 roses, for 50 years

(Photo by Anita Vannoy)

"We've had a good life together," said Gerry Fowler Wallace of her life with husband Jim, 50 years this past weekend.

Gerry says some of their best times together have been traveling, taking an Amtrak excursion across the country to California, up the coast and back through the northwest states.

Jim and Gerry were married in 1956, after she met him at a skating rink in Elyria, Ohio. Jim was born in Scotland, and came to America with his parents, his father worked in a steel mill in Lorrain, Ohio.

Jim spent 40 years working as a machinist at US Steel. He and Gerry came back to her birthplace after his retirement in 1981, taking care of her ailing mother Elfie Barr Fowler, wife of Frank Fowler.

Her mother passed away in 1989 at age 96.

"I spent most of my childhood up on Pine Creek Hill above Grantsville, and went to the Stevens one-room school," Gerry said, "It stands out at the county park now."