Don Harris has been sworn in as Mayor of Grantsville, the second-time around. Three new council members were sworn in last night, P. Jane Wease, Peggy Cain and Marguerite Basnett, plus two incumbents Ambros "Jerry" Collins and Edna Joann Shock.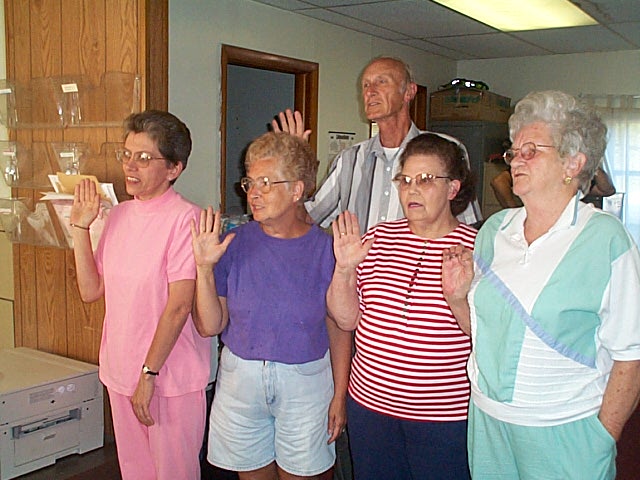 Taking the oath (L to R) P. Jane Wease, Edna Joann Shock, Ambros "Jerry" Collins (rear), Peggy Cain and Marguerite Basnett
Harris served as mayor of the county seat town in the 70's. His brother, the late Ronnie Harris, served two terms a few years earlier. "This has always been my town. It still is," he said. "I want to try and help it out and see what can be done. It means a lot to me."
A young Don Harris
during first term as Mayor
of Grantsville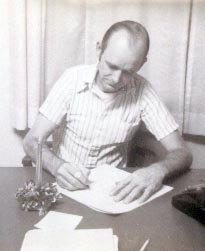 Ronnie Harris,
Don's brother, was two-time mayor
Grantsville, like many small off-the-path towns in West Virginia, has been declining in population for years. Never very large, about 1940 it boasted 1200 citizens. The oil and gas and agricultural economy was going strong and the town was still a trading center, with dozens of profitable businesses lining the streets. The exodus out-of-state to find jobs and pursue careers commenced after World War II. Today there is slightly more than 550 people within the corporate limits and Calhoun's population is just over 7000.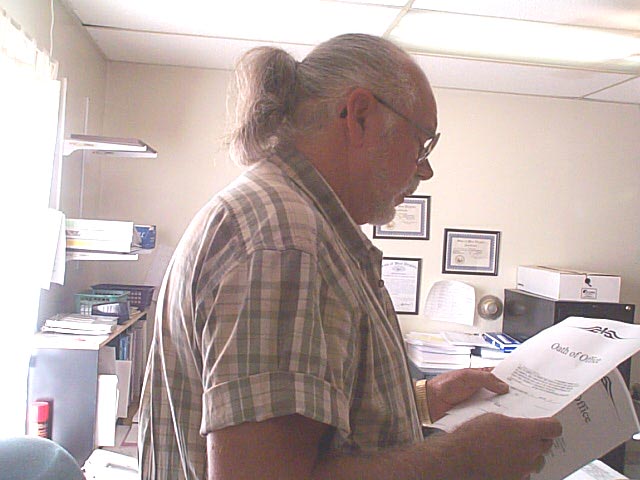 Mayor Harris does ceremonial duties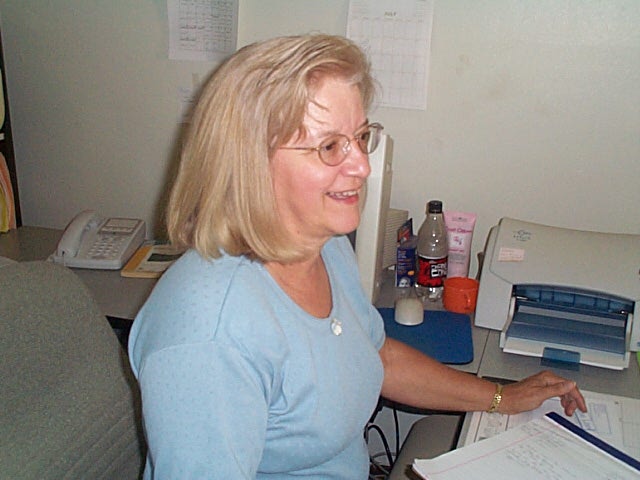 Recorder Phyllis Maze continues as Town Recorder
Despite the lack of jobs, with most locals traveling out-of-county, the area holds to its pristine rural nature, a slow-paced life style envied by thousands "burnt-out" by urban sprawl and a wound-up pace of living. It is a wonderful place to live.
"We're going to work hard to get some things done," said Harris. "I'm asking every one I see to help me, in what ever way they can." Harris said he knows the town is unlikely to return to its former glory, crowded streets, civic groups and a vital interest in community. "We do have a vision and we want to make it a nice place to come."
He said two of his primary concerns are a new city building and getting some streets paved. "We don't need a big building. Something to take care of our town government and equipment." The current city building has serious problems and may even be unsafe. "It needs to come down," he said.
Harris said he wants people in the county to feel welcome to "our little town." We want it to be a friendly place where people can come and visit. "We'll try to keep the welcome mat out," insisting that's what life is all about in rural areas.
As for his ability to be Mayor, "I'm a what you see is what you get kind of guy." Harris says his heart is in the right place. "It would be hard to beat my brother. He worked the town from A to Z, sixteen hours a day. Whatever had to be done."