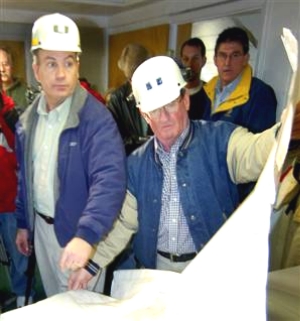 Three weeks after the Sago disaster, here we are again ...
Photo by Bob Bird Associated Press
"Time is not on our side," said Gov. Joe Manchin, standing in front of what could be WVs second mining disaster in Logan County.
Sound familiar? Miners' families are gathering to wait at the Brightstar Freewill Baptist Church, about a mile away.
Four rescue teams were searching the mine following a fire, two were on standby and others were traveling to the mine.
Two trapped miners are inside the Aracoma's Alma mine #1 at Melville.
The fire is believed to have started on a conveyor belt about 5:30 p.m. yesterday, but the mine itself was not on fire.
By 5:45 p.m. a 12-member crew began making efforts to reach the outside of the mine. The miners encountered smoke, and two members became separated. Ten arrived outside around 7:30.
The location of the fire is about 1,000 feet underground and about 10,000 feet into the mine.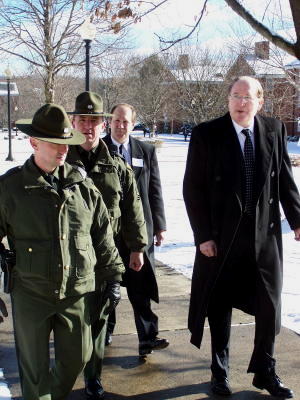 Sen. Jay Rockefeller, after attending memorial services last Sunday,
is in Buckhannon with other senators looking at the Sago disaster
(Hur Herald Photo)
Senator Jay Rockefeller is arriving today at the Sago mine, leading a bipartisan contingency of US senators.
The senators are expected to meet with the families of the 12 miners who died.
Accompanying Rockefeller are Senate Health Education Labor and Pensions Committee Chairman Mike Enzi, a Republican from Wyoming; Massachusetts Democrat Senator Ted Kennedy; and Georgia Republican Senator Johnny Isakson.
Enzi's committee has oversight over the nation's mine safety program.