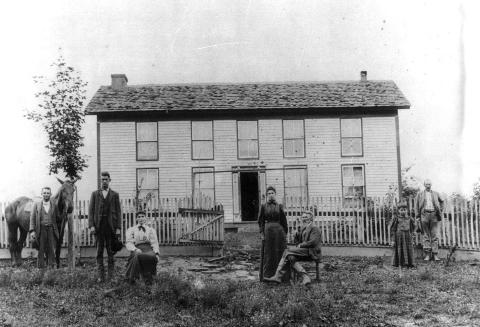 The Stump Homestead at the mouth of Henry's Fork
By Bob Weaver 2006
The longer I have lived and been connected to my birthplace, the more I understand what a short time it has been since we began to carve a way of life in this wilderness.
This year is Calhoun's sesquicentennial, 150 years having passed since the county was officially formed in 1856.
So far, no group has come forward to organize anything like the 100th year celebration, held in 1956.
No whup, no holler.
Virtually every man, woman and child participated in a five day celebration 50-years ago, which featured a gigantic outdoor drama performed on Wayne Underwood Field. A dramatic historical spectacle called "Calhoun Through The Years" featured a cast of hundreds.
Men grew beards, becoming "brothers of the brush" and woman donned long dresses and bonnets.
President Dwight D. Eisenhower sent a telegram - "I wish all of you a highly enjoyable celebration, one which will successfully bring to you the story of men and women who have lived and worked in your region."
Those who were not part of the outdoor play, were part of the audience, which filled the bleachers every night.
Centennial Queen Doris Weaver gave the official welcome over the loudspeaker, followed by seventeen episodes telling the history of the county, with the evening concluding with a gigantic fireworks display.
Narrators Gladys Weaver Stump, Jeanne Smith (Pollock), Rev. William Taylor and Elwin Wilson, told the story of the county rising from the wilderness, the battle over the county seat, years of conflict from the Civil War to World War II, the great Grantsville fire, to the roaring twenties, with actors and musicians appearing on the field throughout the pageant.
It was really a big deal, but there was much more, including the largest street parade, ever.
Reading the names in the program, one reflects on the men and woman who were active in community life at mid-century, now mostly deceased.
There was a youth day, ladies day, agricultural day, pioneer and homecoming day and religious dedication day.
Now, with 21st Century technology, it's pretty hard to get anyone out for much of anything.
But the forest is closing upon us again, partially returning to wilderness life.