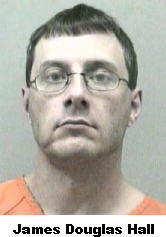 An incident in Kanawha County has caused James Douglas "Skippy" Hall, 36, to be incarcerated in Central Regional Jail for attempted murder.

Hall, whose residence is given as Cannelton, was just indicated for daytime burglary by a Calhoun Grand Jury, reportedly for the theft of a firearm.

Hall is also charged by State Police with fleeing, speeding, reckless driving, and DUI 2nd offense in Kanawha County.

Hall allegedly tried, not once, but twice, to run over a State Police officer Cpl. J. D. Perry in December, after the officer stopped Hall on a traffic violation.

The incident happened in Rand, where Hall was clocked at driving nearly 100 miles per hour on US 60. He was later caught in Nicholas County.