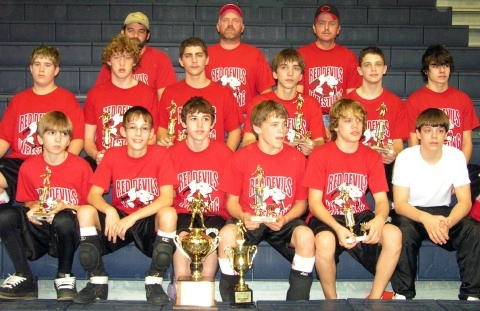 CMS Wrestling Team (Front) Justin Yoak, Zach Hanshaw,
Austin Moore, Cody Clark, Ben Laughlin, and Dillon Mefford
(Middle) Justin Yeager, Jacob Haught, Tim Sutro,
Aaron Yoak, Caden Arnold, and Taylor Welch
(Back) Dale Clark, Coach Elvin Hixon, and Coach Rex Yoak
By Roger Propst
Calhoun's Middle School Red Devils wrestling team traveled to Clay Thursday evening and came away with the Central West Virginia Athletic Conference (CWVAC) championship.
Calhoun wrestled head to head with Braxton, Clay and Spencer Middle, winning all three matches to take the championship.
In addition to winning the team trophy, the Red Devils crowned seven conference individual champions; Justin Yoak, Cody Clark, Ben Laughlin, Caden Arnold, Aaron Yoak, Tim Sutro, and Jacob Haught.
This is the 2nd CWVAC Championship for Calhoun Middle as the football team captured the football title earlier this year.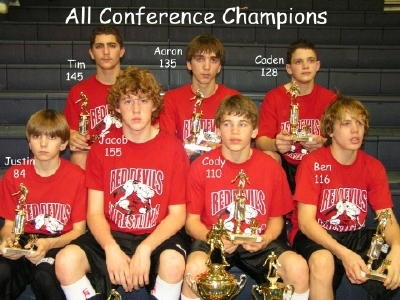 Individual Champions (Front) Justin Yoak,
Jacob Haught, Cody Clark, and Ben Laughlin
(Back) Tim Sutro, Aaron Yoak, and Caden Arnold