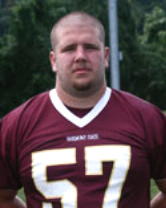 The number of Roane County youth who have tragically died continues to grow, with the Monday funeral of twenty-year-old Samuel Drew Craddock, 20, who was killed in a car accident on State Rt. 36 Thursday.

It was Craddock's birthday, he was returning from a visit to his grandparents at Newton to eat a birthday meal with his mother in Spencer.

Family members said "Sam will be remembered for his smile, sweetness, sense of humor and zest for life. They take comfort in his positive attitude toward life"

They said "Sam would challenge you to continue to have such an attitude."

Craddock, a sophomore at Fairmont State College, where he played football, was a well-known Roane County High athlete in football, track and wrestling. He was a graduate of the Class of '04 and a member of the Slate United Methodist Church.

He is survived by his parents, Chris and Debbie Craddock; brother, Josh Craddock and wife Sara of Spencer; maternal grandparents, James and Patricia Tawney of Newton and paternal grandmother Anna Belle Craddock of Spencer. He was proud "Uncle Sam" to Ava Grace, daughter of Josh and Sara.

He was preceded in death by paternal grandfather, Joe Craddock.

Funeral services are scheduled for 11 a.m. Monday, January 16 at Roane County High School with Rev. Danny Whited officiating. Visitation is from 4-8 p.m. Sunday at the school. Burial will be in the Clover Cemetery.

Taylor-Vandale Funeral Home in Spencer is in charge of arrangements.