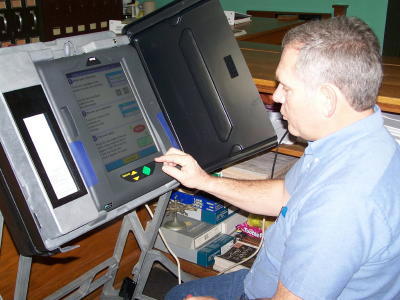 It's a first look this week at the new computerized voting machines that will be replacing paper ballots in Calhoun, being prepared for use during the Primary Election.
Calhoun Clerk Richard Kirby has been demonstrating the new Touch-Screen Voting machine in his office, after returning from election training.
Calhoun's precincts will have 33 touch-screen machines, most of them are equipped for the visual and hearing impaired.
Kirby says the voting program is easy to use, after a quick introduction to the machine.
Most of the voting process is self-explanatory, he says, and allows voters to change their minds during voting or at the end of the process.
Kirby says he will be taking the machines to various parts of the county to give demonstrations.