By Bob Weaver

A Calhoun State Police cruiser was heavily damaged Friday night in a collision with another vehicle. Trooper Doug Starcher's cruiser came to rest in a field along Route 16, just south of the Grantsville limits.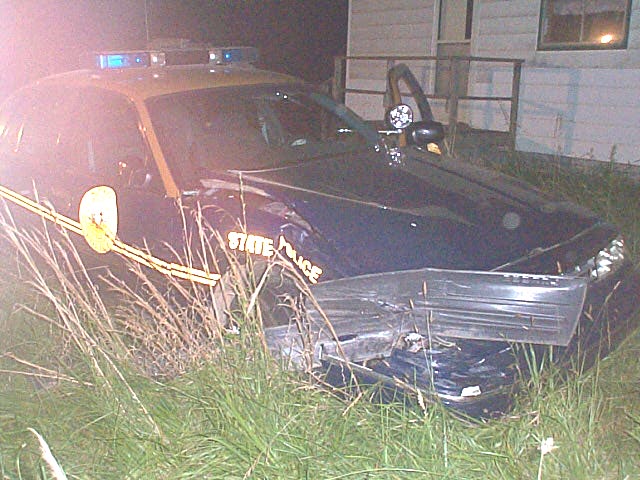 Cruiser lands in field
The other vehicle was driven by Melissa Hartshorn of Grantsville. Neither she or Trooper Starcher were transported by EMS. Damage to the Hartshorn vehicle was to the driver's side.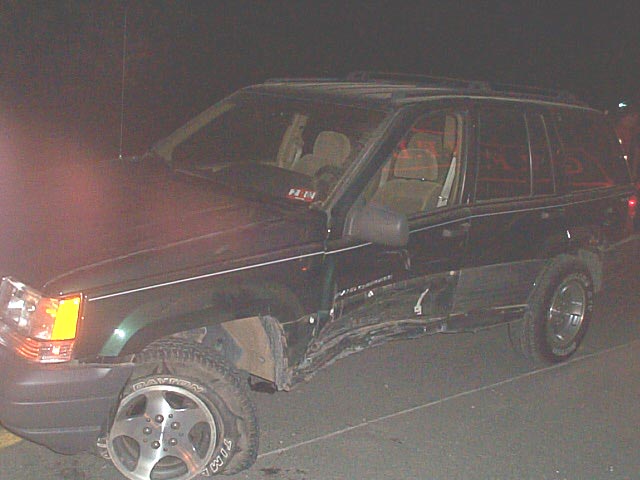 Hartshorn vehicle in crash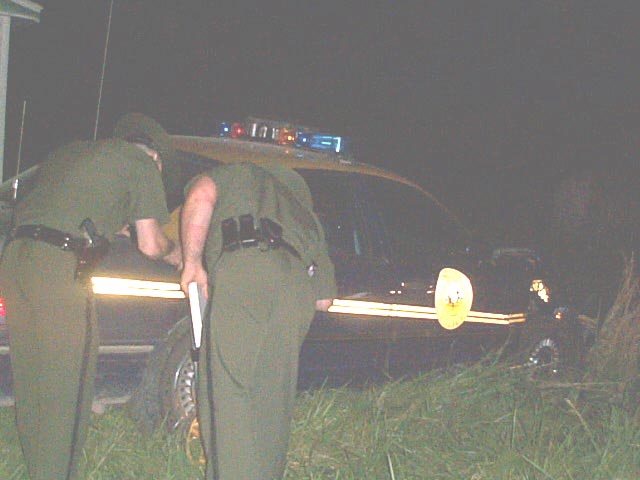 Officers investigate crash
Sheriff Allen Parsons said Trooper Starcher was responding to a domestic situation on Daniel's Run when the collision occurred. Ramona Price had reported a threat was being made toward Jeremy Burrows, indicating a weapon might be involved.
Sheriff Parson's responded to the domestic call at 9:52 p.m. He said Burrows had fled the scene after another man allegedly threatened to harm him during a telephone call.
Sgt. David Garrett, supervisor of the Grantsville detachment, came to investigate the accident, which was called in to Calhoun Control by Trooper Starcher at 10:05. Starcher was involved in another cruiser accident on the Mt. Zion Ridge a few months ago.
Calhoun EMS responded to the accident, along with the Grantsville Volunteer Fire Department and Grantsville Police Chief Charlie McCroskey.
This was the second incident in the county within 48-hours involving reports of a weapon. State Police and the Calhoun Sheriff's Department responded to Chloe Wednesday night where a loaded rifle was involved in a dispute between Arley Matheney and his son-in-law, Dick Jarvis. Jarvis was taken to Charleston Area Medical Center complaining of problems with his legs.
Trooper Doug Starcher declined a public information request regarding the incident, although sources say the investigation is continuing. Charges are expected to be brought against some of the parties involved in what was described as a "property dispute."
Police responded to a call to the Hilltop Inn at 2 a.m. Saturday morning, after the owner wanted to press charges against one or more persons involved in a disturbance. The bar is located on Route 5 between Grantsville and Big Bend.