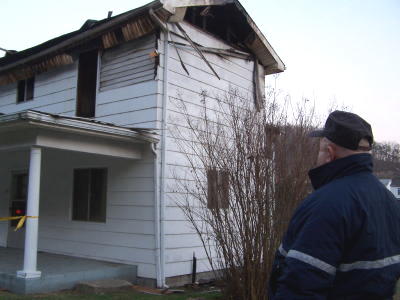 Assistant Fire Marshal examines River Street house
Authorities were looking into whether or not an early Saturday morning fire in Grantsville is linked to arson.
Assistant State Fire Marshal, Roger A. York, was at the River Street house yesterday, launching an investigation.
Firemen said the electric was turned off and the residence was unoccupied.
Also at the scene yesterday was Fire Chief Dave Johnson, Grantsville Police Chief Ron Gordon and Cpl. Doug Starcher of the State Police.
Fire gutted the large two-story house after it was discovered by a newspaper carrier about 4 a.m.
The house was reportedly owned by Bernard Stump of Pineville and was formerly owned by Paris and Goldie Ball.
The house was originally occupied by captain Billy Gates, an old-time river captain on the Little Kanawha River.
See story 1/7/2005