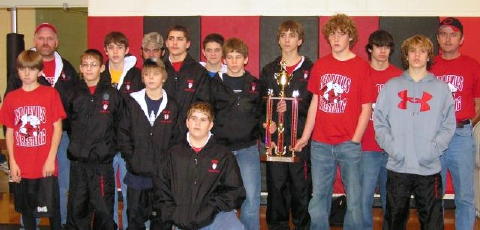 Front, Justin Yeager; Row 2 L-R Justin Yoak, Zach Hanshaw, Seth
Weese, Tim Sutro, Cody Clark, Aaron Yoak, Jacob Haught, and Ben Laughlin; Row 3 L-R Coach Elvin Hixon, Dillon Mefford, Coach
Dale Clark, Caden Arnold, Taylor Welch and Coach Rex Yoak
Photo courtesy of Patty Haught
Submitted by Jennifer Miller
The Calhoun Middle School Wrestling Team earned first place honors at the Braxton Middle School Invitational in Flatwoods on Saturday January 7th.
From a field of eight, (Andrew Jackson, Braxton, Buckhannon-Upshur, Calhoun, Clay, Spencer, Trap-Hill and Wirt) Calhoun led the competition with 34 team points.
Wirt was presented with the second place trophy while Trap Hill received third.
Individually, CMS placed eight wrestlers in the finals, 5 winning first place, Cody Clark, Ben Laughlin, Caden Arnold, Aaron Yoak and Jacob Haught, 3 winning second, Justin Yoak, Austin Moore and Tim Sutro. Placing third was Zach Hanshaw and Taylor Welch. Fourth place winner was Seth Weese.
In addition, wrestling for Calhoun was Shane Cummings, Dillon Mefford, Evan Mace and Justin Yeager.
CMS Wrestling will compete Thursday, January 12th at Clay for the CWVAC Championship Trophy and Saturday, January 14th at Spencer Middle School in the Spencer Invitational.
Coaches Elvin Hixon, Rex Yoak and Dale Clark invite all fans to attend in support of these young wrestlers.