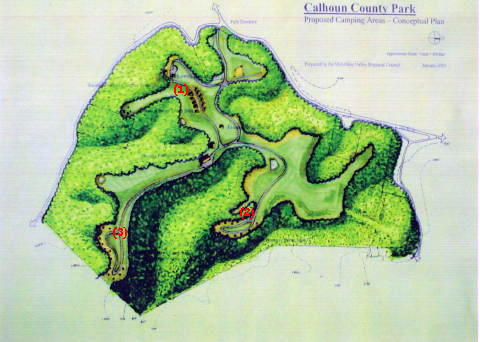 Three areas are being proposed for primitive
and hook-up camping at Calhoun County Park
By Bob Weaver
Outdoor camping could be coming to the Calhoun County Park.
"Lots of people have said primitive and hook-up camping sites are needed," said Park Board president Steve Whited, indicating regional parks and sites turn campers away during the summer.
"We have one of the most beautiful park sites in the region, but it still seems under-used," said Whited, who met last week with a representative of the Mid-Ohio Valley Regional Council and LK Regional Development representative Diane Ludwig.
The initial proposal calls for 20-30 primitive sites in two areas, one section beyond the park barn and another beyond the hilltop pond.
The plan also calls for looking at developing 10-15 hook-up sites for campers, providing electric and water. Those sites are currently proposed for an area between a hill-top shelter and Heritage Village, not far from the park entrance.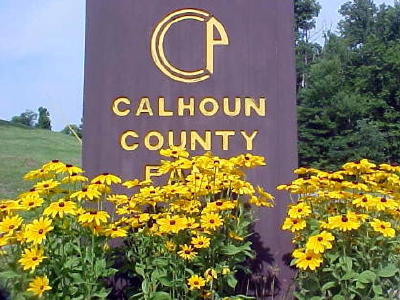 "One of the most beautiful park sites"
Heritage Village now has four buildings representing Calhoun's past
Whited said a meeting of the park board is scheduled for January 16.
"We'll be looking at how to move forward with this," he said.
The park has one of the best walking trails in the area, several accommodating picnic and meeting shelters, ball fields, ponds, a community building, the Heritage Village, but "The beauty of the place is a whole countryside of grassy areas and woods," said Whited.
"Adding camping would be a real plus, hopefully drawing more folks to the area," Whited concluded.