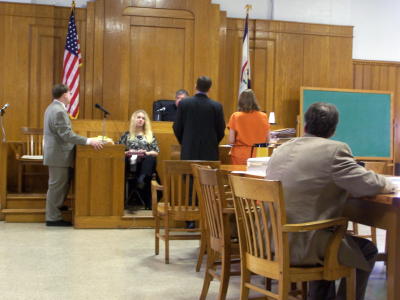 Sherrie Lea Davis stands before Judge David Nibert yesterday in Grantsville, facing drug charges. Pictured left is prosecutor Matt Minney
A Millstone woman was indicted Thursday by a Calhoun grand jury for attempting to operate a clandestine meth lab, among other related charges.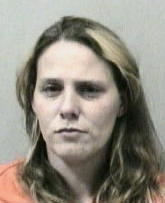 Sherrie Lea Davis, 29, (left) was also indicted on two counts of exposure of a child to the manufacturing of meth and one count of manufacturing a controlled substance.
Davis appeared Friday before Judge David Nibert to set a court date.
The woman was arrested in September, 2005 with Joseph Paul Kute, 22, also of Millstone. She is in Central Regional Jail, with a $20,000 bond set.
Police obtained a search warrant for a mobile home in which they allege there was a meth operation.
Officers said Kute ran into the woods after he had been handcuffed by officers, but then turned himself over to authorities.